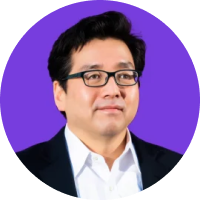 Become a Member To Access FS Insight Research
FS Insight gives individual investors access to Tom Lee's research, previously only available to banks and hedge funds.
Why FS Insight?
Because We Deliver Quality Financial Research
+67%
WW International shortly after we featured it in Signal from Noise, it showed huge gains, to the delight of our members.
Research in 23 countries
We have global reach. Our research is used by clients in 23 countries.
80% of Macro and Crypto
Fundstrat's research products are used by global asset managers representing 80% of active assets under management.
87.51% outperformance
Since inception in January 2019, our Granny Shots stock picks have beaten the S&P 500 by 87.51% through July 2023.
100+ Finance Mentions
Tom Lee and FS Insight were featured more than 100 times on major U.S. news channels in the past year.
Premium Research Trial
Start with a free first month! This enticing offer gives you a chance to see the powerful value of FS Insight for yourself.
4,690+ Finance Reports
We've released more than 4,690 reports about the markets thus far, with many more to come.
Testimonials
What our clients think about our premium research

Peter Najarian
Market Rebellion
"Tom Lee is one of the most talented analysts on the street."

Robert C. Doll
Nuveen Asset Management LLC
"We use Tom Lee because he does his homework"
Institutional Investor
INVESTMENT NEWS SITE
"Tom does a huge amount of work and he doesn't rely on hunches. All of his arguments are data driven."
The Cointelegraph
CRYPTO NEWS SITE
Thomas Lee was one of the first "traditional finance" professionals talking about Bitcoin.
Frequently Asked Questions
Can I pay with cryptocurrencies?
Yes! We accept cryptocurrencies via BitPay. You can select the BitPay option on the checkout page.
Can I cancel at any time?
Yes, you may cancel your subscription at any point in time without any restrictions whatsoever. You can do that in the Subscriptions tab under the Account Settings page.

To Access Account Settings scroll to the bottom of any page and click on the Account Settings link.

If you click on the 'Cancel Now' button then you won't be billed for the next billing cycle and you will retain access to all past and future members-only content made available for your plan. You will lose access to all members-only content on the first day of the next billing cycle. After that, you can reactivate your subscription at your convenience on Our Services page.
What happens if I would like to Upgrade or Downgrade my subscription?
You can upgrade or downgrade your subscription at any time by following these simple steps:
- Please make sure you are logged in
- Navigate to the Our Services page and select your new plan
- The site will take you to the Checkout page where your new totals will be displayed
- If you still wish to modify your subscription, just complete the checkout process

Any surplus amount will be prorated towards your new plan.

What should I do if I receive an Incorrect Password message?
Please clear your cookies and cache in your browser.

For
Google Chrome

and Opera please follow these steps:
- Click on the small lock icon to the left side of your browser's addressbar,
- Click on site settings,
- After the page has loaded, click on the 'Clear Data' button.

For

Firefox

please follow these steps:
- Click on the small lock icon to the left side of your browser's addressbar,
- Click on the option 'Clear Cookies and Site Data...'
- Make sure FSInsight.com is selected,
- Click on 'Remove'.

If you have any further issues please let us know.