The minor consolidation Thursday might not be complete and still looks likely to give Bulls some opportunity to buy dips for those who didn't participate in early week strength.  However, in the bigger picture, rallies back up to test 3980-4050 look likely into October expiration,...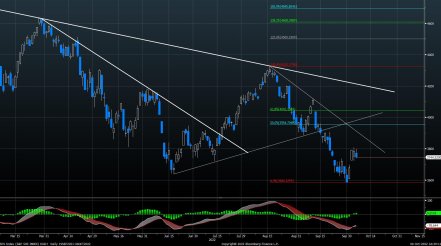 Utilities drive outperformance, while Semis wane
Markets have stabilized ahead of the long holiday weekend, and a near-term bounce up to 3830-3860 looks to be happening to kick off Q3 on a good note.   Near-term, active traders should look to sell into this bounce next week, expecting that 3946 should not be exceeded before prices roll...
Utilities pushing back to new all-time highs
SPX's gains have now extended for the third consecutive day, which hasn't been achieved since late January.  Two-month SPX downtrends from early January are being tested, while momentum based on daily MACD has turned back to positive.  Does this mean the lows are in?  Unfortunately, without weekly momentum starting to...
Cyclicals, Si! Defensives, No. Look Under the Hood
What's the most important technical event taking place in U.S. capital markets today? Sure, new all-time highs would be a reasonable first guess, but it's actually the sector rotation under the hood, so to speak, that has the potential to have the biggest impact to portfolios through H2. Why? First,...
After a Strong 1H '19, Potential Is For More Gains in 2H
With the half year mark fast approaching, it's as good a time as any to take stock of the first six months for U.S. equities, and, more importantly, to see what, if anything, that means for the market's potential in the back end of 2019. We'll get a jump on...