US equity markets remain trending lower in the short run, but are close to near-term support which should materialize between 12/21-12/23 at marginally lower levels.  While daily momentum has not yet reached traditional oversold levels per Relative strength index (RSI), we've begun to see RSI...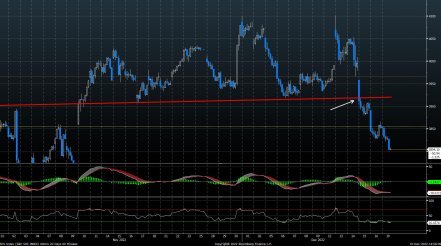 VIX down to support as "FAANG" hits resistance
Increasing signs of stalling out in US Equities ahead of a potentially very important Jobs report on Friday (8/5), and stock indices largely continue to be fairly resilient amongst a sea of gloom on the economy and earnings.  To the bears' chagrin, this rally has happened amidst widespread participation and...
Treasury yields likely to bounce further after hitting support
Given the degree of sideways trading in Equities over the last week, the real focus should be on what's happening in Foreign Exchange (FX) as well as Treasuries.  US 10-Yr Yields look to have found good initial support near 2.70%, a meaningful support level coinciding with lows over the last...
Slide Does Technical Damage But Doesn't End Rally Mode
Last week's market drop-off did considerable technical damage to many charts BUT there are a few silver linings we would encourage investors to consider. The Standard & Poor's (SPX), along with many stocks, notably cyclicals, were overbought at resistance heading into the beginning of this week. The SPX has pulled...