Friday's strength in SPX and QQQ has broken initial resistance, giving reasons for optimism that a more meaningful low could be in place.QQQ bounce makes both legs of decline equal in price and time into late May.Ethereum has fallen out of favor vs Bitcoin, and...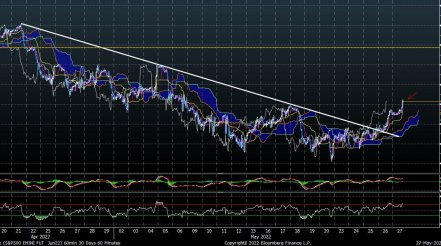 Short-Term Rally Possible as SPX Reversed at Base Case '22 Target
Friday's decline has achieved my Base case 2022 technical target and Friday's reversal gives hopes for a short-term rally getting underwayVery good price action in Equal-weighted Healthcare and Technology this weekVIX recent lagging could be construed as bullish, sniffing out market bottom https://vimeo. com/712238976 Markets promptly reversed early uptrends to...
Equal-weighted SPX hits highest vs SPX in over a year
Tuesday's NASDAQ pullback has violated Feb/March lows, while SPX is at these levels, and DJIA remains a relative outperformer, trading ~3% above as of 4/26 close.Microsoft and Tesla analyzed technically and key support, resistance revealed.Equal-weighted SPX and NASDAQ both showing strength vs Cap-weighted. https://vimeo. com/703496495 The selloff has proven difficult...
SPX breaks support as Tech weakness spreads to broader market
Technical Strategy Video: https://vimeo. com/662809726/af65efdf14 SPX break to multi-day lows was accentuated by Technology's declineValue continuing to make inroads vs Growth- While Large-Cap Growth was far better than Value into End of year 2021, Mid and Small-cap Growth had never really strengthened as much.  Recent days shows Value across...
Slide Does Technical Damage But Doesn't End Rally Mode
Last week's market drop-off did considerable technical damage to many charts BUT there are a few silver linings we would encourage investors to consider. The Standard & Poor's (SPX), along with many stocks, notably cyclicals, were overbought at resistance heading into the beginning of this week. The SPX has pulled...