Incredibly enough, Thursday's surge surpassed even what options markets were expecting for volatility post CPI.  Equities, Treasuries and currencies all showed some of the largest movement seen in years.  SPX's move above late October highs puts a major decline on the back burner for the...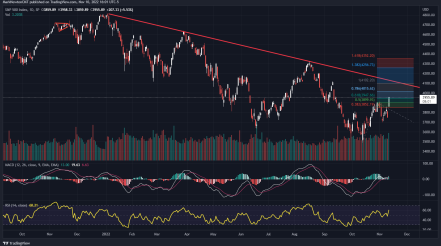 Here's what needs to happen to think SPX is "Out of the woods"
TREASURY YIELD PEAK LOOKS CLOSE, BUT YIELDS STILL SEEM TO REQUIRE A FINAL PUSH HIGHER Yields represent one of the most important areas to concentrate on for those who have an interest in Equities these days. Gathering some conviction on a peak in $TNX and $TYX should directly lead to...
Short-Term Rally Possible as SPX Reversed at Base Case '22 Target
Friday's decline has achieved my Base case 2022 technical target and Friday's reversal gives hopes for a short-term rally getting underwayVery good price action in Equal-weighted Healthcare and Technology this weekVIX recent lagging could be construed as bullish, sniffing out market bottom https://vimeo. com/712238976 Markets promptly reversed early uptrends to...