Incredibly enough, Thursday's surge surpassed even what options markets were expecting for volatility post CPI.  Equities, Treasuries and currencies all showed some of the largest movement seen in years.  SPX's move above late October highs puts a major decline on the back burner for the...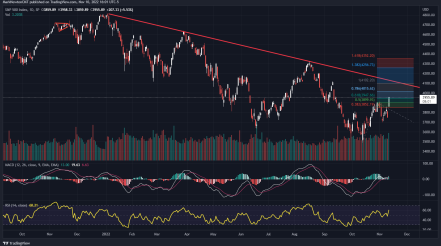 ARKK looks to be close to bottoming. Rally likely into December
1 month ago Members Only: FSI Macro and FSI Pro LIVE Technical Stock Analysis - October 2022 Wondering where your stocks are headed into year-end? Leave it to the pros! Please join us for an in-depth analysis of your top stock picks, including: $NVDA, $QQQ, $TSLA, $AAPL, and MORE! Our...
FOMC decision -- tapering will not be a killer of the "YE everything rally"
We publish on a 4-day a week schedule: Monday Tuesday Wednesday SKIP THURSDAY Friday STRATEGY: FOMC DECISION -- TAPERING WILL NOT BE A KILLER OF THE "YE EVERYTHING RALLY" __THE "RATE OF IMPROVEMENT" IS SLOWING FOR COVID-19 CASES, AS THE 7D DELTA IS APPROACHING FLAT__ While COVID-19 cases remain sub-70,000...