Tuesday's mild stabilization could be setting up for a minor bounce into/post FOMCGold and silver both likely to weaken down to 2022 lows as real rates riseEthereum's weakness growing closer to intermediate-term support to buy   https://youtu. be/3NmieAdwqPI SPX is now down ~10% just since...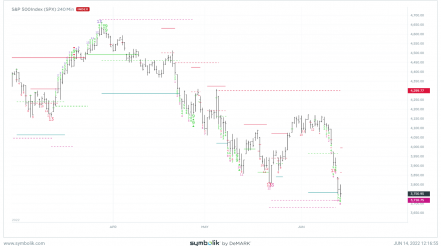 What's needed to think lows are in for SPX and QQQ
Thursday's sharp rally caused many to expect (yet again) that lows are in; however,  breakouts above SPX 4114 and QQQ-306.56 are minimum requirements.Stock/bond correlation still intact as both stocks and Treasuries rallied this week.Cryptocurrencies rebounded Thursday, following the rally in risk assets. https://youtu. be/6vVoLtpel_U The S&P bounce might seem to...
The break of January lows likely proves short-lived
DJIA, SPX and QQQ all closed at the lowest daily closes since last Spring, but failed to take out intra-day lows from January 2022 last month which looks importantDeMark indicators are closer to signaling exhaustion and coincide with cyclesYesterday's note on 5 reasons to expect an upcoming low remains intact;...
Expecting temporary lows next week in Equities, Treasury Yields and Crypto
Technical Strategy Video: https://vimeo. com/653044675/fedf57106c Pullback in US Equities, along with Cryptocurrencies, and Treasury yields getting close to initial support and expect reversal higher to begin Monday-Wednesday of next week. One can't rule out one final flush for Equities, but should be right to buy weakness in SPX at...
While trading lows look near, lots of damage has been done
Trends & momentum remain negative short-term for US Equity indices and SPX requires a move back over 4653 to expect this weakness is completeWTI Crude should be nearing support for a bounce starting next week which should help Energy recoverHomebuilders remain a very strong technical group and should be favored....