Note: I will be traveling today and therefore will not be publishing a video. Thank you for your understanding. Markets are now approaching price targets for this decline, and there's a good likelihood of a trading low to this pullback likely early next week.  For...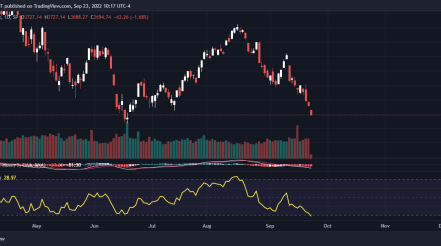 Precious metals could test 2022 lows into July
Tuesday's mild stabilization could be setting up for a minor bounce into/post FOMCGold and silver both likely to weaken down to 2022 lows as real rates riseEthereum's weakness growing closer to intermediate-term support to buy   https://youtu. be/3NmieAdwqPI SPX is now down ~10% just since the June 7th close after...
What's needed to think lows are in for SPX and QQQ
Thursday's sharp rally caused many to expect (yet again) that lows are in; however,  breakouts above SPX 4114 and QQQ-306.56 are minimum requirements.Stock/bond correlation still intact as both stocks and Treasuries rallied this week.Cryptocurrencies rebounded Thursday, following the rally in risk assets. https://youtu. be/6vVoLtpel_U The S&P bounce might seem to...