Articles tagged as
Congress
After the Easter/Passover break Congress returns next week with the legislative focus on President Biden's proposed budget, and the continuing discussion of a large infrastructure bill. On Friday the Biden Administration released the outline of its budget recommendations. Democrats have long complained that too much federal spending was going towards defense at the expense of needed domestic spending. The proposed Biden budget starts to realign budget priorities with defense spending increasing just 1.7% to $753B, while non-defense spending is increased 16% to $769.5B. The Department of Education, which was cut during the Trump years, has a 40% proposed increase. Other domestic agencies also see proposed increases with 23.1% at HHS, and 15.1% at HUD. However, Presidential budget requests are just that – requests – and are regularly changed by Congress no matter who controls the White House or the legislative branch. It has become regular practice for Congress to miss the completion of the federal budget by October 1 when the new fiscal year begins. The common practice is for Congress to approve a Continuing Resolution (CR) to fund the government at current spending levels. Democrats in Congress are anxious to see increases in domestic spending so there may be some incentive to reach agreement with Republicans which is likely to require greater spending of defense. In addition to federal spending, by year end Congress will need to pass an increase in the debt ceiling. One of the oddities of the US Government is that there is a legal celling on the amount of debt the US can have outstanding at any one time. The debt ceiling is regularly increased to accommodate increased spending, but it is always a difficult vote for Members of Congress. The current ceiling exemption expires on August 1, but Treasury has developed a package of "extraordinary measures" that can keep the government afloat for several months. But at some point by yearend Congress will need to increase the ceiling, and it is sure to add drama to the closing weeks of the Congressional calendar. In addition to the President's fiscal year 2022 budget, Congress is starting to develop a strategy to act on the Biden $2T infrastructure proposal. While the President plans meeting next week with Republicans in an effort to develop a bipartisan infrastructure program, there is a great deal of focus on ways to approve the Democratic package without Republican support, as Congress did in the Covid Relief bill earlier this year. The Covid bill was passed using the filibuster proof Budget Reconciliation procedure. In the past Congress has been limited to one Budget Reconciliation Bill; but Senate Leader Schumer has developed a plan with the Senate Parliamentarian that would allow for one amended version of the Budget Resolution which would contain instructions for an amended Reconciliation Bill. At this point it is not clear whether or not this is an agreed upon plan to pass the infrastructure bill using Reconciliation or leverage to try and win some Republican support. It is important to remember, as seen in the failure to include a minimum wage increase, that there are limits as to what can be in a Reconciliation Bill. In the coming weeks the issues of the 2022 Federal Budget, increasing the debt ceiling, and acting on infrastructure will all be front and center in DC.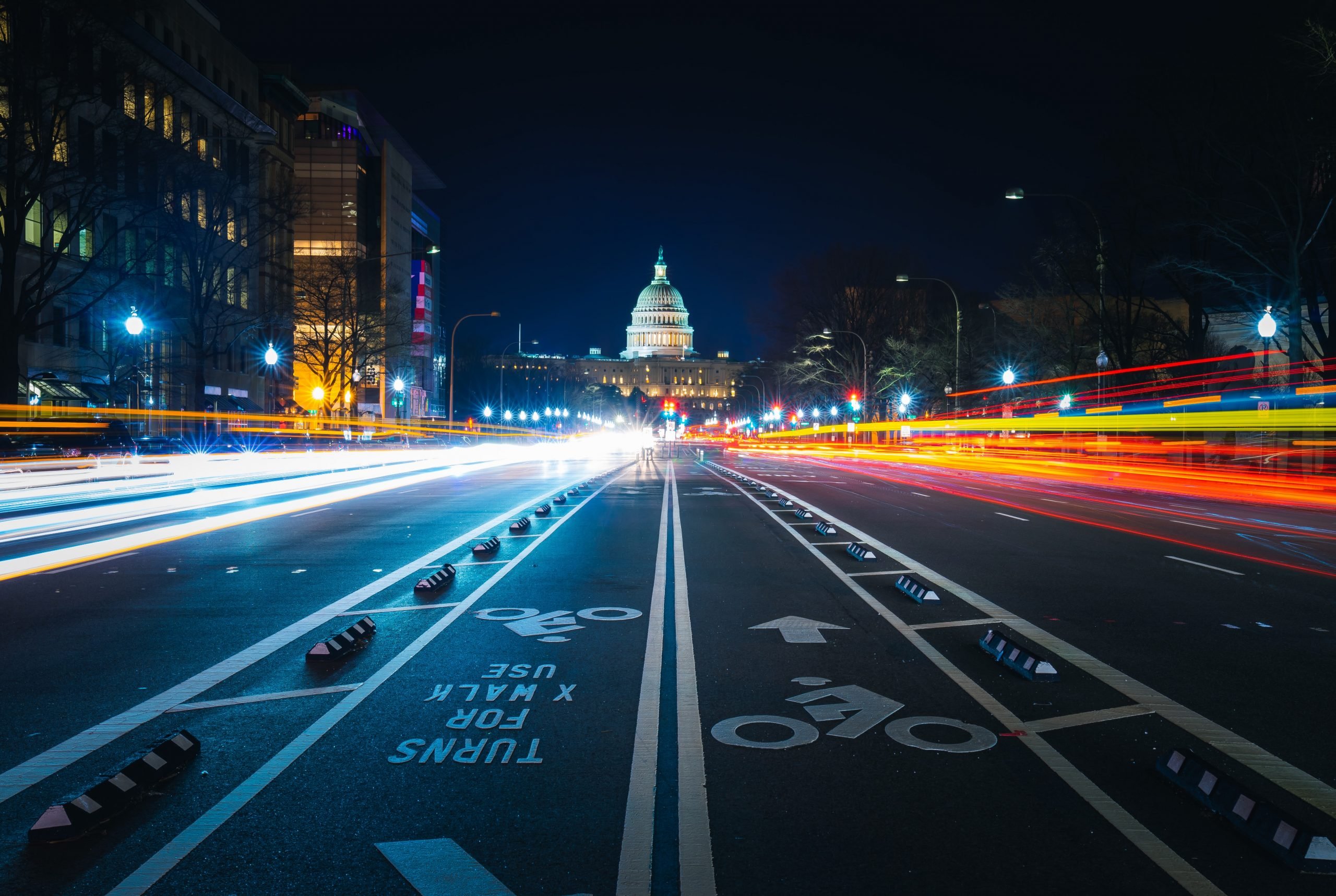 Drama on Fiscal Cliff; Congress Takes Aim at Libra
After a week of sharp partisanship focused on President Donald Trump's harsh comments towards four left-leaning Democratic House representatives, the substantive focus remains the efforts of Congressional leaders and the Administration to find a resolution to the fiscal cliff that could be reached as early as the first week of September. The scheduled vacation departure of the House at the end of next week adds heightened drama to Washington in the coming days. The Treasury Department projects that under their most conservative estimates the US government would hit the debt ceiling, and default on payments, as early as September 9 or 10. Congressional Democrats led by Speaker Nancy Pelosi would like a two-year deal that raises spending ceilings for both defense and domestic spending as well as deal with the debt issue. While both sides report progress, the big uncertainty is whether or not the President will accept a deal negotiated by Treasury Secretary Steven Mnuchin. There are persistent rumors that the President's chief of staff Mick Mulvaney, a deficit hawk, will convince Trump to walk away from a deal even if a temporary default is possible. Separately, Congressional representatives questioned Facebook's (FB) David Marcus, head its digital currency project, a few days ago about the proposed non-fiat digital currency, Libra. Even for nonbelievers in crypto/blockchain, this brings up several pertinent policy topics. In particular, the two-day hearing highlighted privacy issues posed by FB—and Google (GOOGL): anti-trust concerns that have become part of the 2020 electoral rhetoric, and the question of what role social media companies should play, if any, in offering financial services. There were also notable distinctions made between permissioned currencies like Libra and open public crypto-currencies such as Bitcoin, primarily relating to the freedom to enter the network and centralization of governance and custody. Legislators' questions were aggressive, occasionally hostile, and generally cynical towards FB's efforts. This broad-based animosity is likely connected to the company's long and well-known history of regulatory and privacy related missteps. During the hearings, lawmakers routinely cited these previous privacy issues as evidence that neither they nor Facebook's users should trust it to ensure Libra will protect consumers and comply with the necessary regulations. It is difficult to assess how the Administration will react to cryptocurrencies and blockchain technology. President Trump is a wild card but he clearly has grown annoyed with the left lean he sees in California-based technology companies. If he believes there's a pro-Trump political argument to be made by attacking cryptocurrencies such as Bitcoin or related projects like Libra, then there is a risk he could intervene. FB stocks fell ~1% over the course of the hearing, closing at $201.80 afterwards. Despite the legislator hostility the mild move isn't surprising given that Libra's providing additional revenue streams to the company is so far off in the future. Source: MarketWatch
Congress Expected to Pass Temporary Budget by Nov. 21
Thursday, November 21, is the deadline for Congress to pass legislation to ensure that there is no government shutdown. It is widely expected that Congress will pass another Continuing Resolution (CR) to keep funding at current spending levels. As is often the case in Washington under President Trump, there is always some level of uncertainty as the President views unpredictability as an important management tool. Secretary of Treasury Mnuchin has had talks this past week with all the key players on Capitol Hill and has stated that the President is ready to pass a "clean" CR that has no policy riders. With respect to all budget issues, including the upcoming CR, the President's desire to build the wall on the Southern border is always part of the conversation. The general assumption is that the CR will be silent on the wall thus allowing the Administration's current funding plans to continue. December 20 is the anticipated new deadline for government spending that is expected to be set in the legislation to be passed next week. Meanwhile, the impeachment process rattles on. Speaker of the House Nance Pelosi is trying to find some issues where the House Democrats can demonstrate that they can work on bipartisan basis even with the friction caused by impeachment. This past week there seemed to be movement on the idea that Congress could act on the revised NAFTA treaty, the so-called USMCA. US Trade Representative Robert Lighthizer has been actively negotiating with House Democrats and there appears to be movement which would allow for a vote this year. It is a great issue to find compromise as the President is fully committed to the treaty and his desire to get it passed might overcome his building enmity towards the Democrats over impeachment. In order to support the treaty Democrats need to shore up support from their allies in labor, but few dispute that the renegotiated treaty is better than the existing one. Walmart announces great numbers. No impact from Tariffs (which are contributing $Billions to our Treasury). Inflation low (do you hear that Powell?)!— Donald J. Trump (@realDonaldTrump) November 14, 2019 "The Chinese say (about Trump's Trade War & Tariffs), 'he brought us to the table.' This is the most prosperous economy the world has ever seen, and it's going to be a very prosperous economy." Jamie Dimon on @60Minutes Thank you President Trump & the Republican Party!— Donald J. Trump (@realDonaldTrump) November 11, 2019
Impeachment Fever, Trade Talks; DC In Full Circus Mode
Impeachment fever has taken over Washington, D.C., but the business of governing is attempting to proceed around town. The big news next week will be the arrival of a high-level Chinese trade negotiating team. Figure the market will hang on every word, sorry, make that tweet, that comes either from the President or the Chinese delegation. The latter is less adept at tweeting— so far, of course. However, the unrest in Hong Kong poses a wild card risk to the talks as it will be hard for the U.S. to stay mum if protesters there start to be hurt or killed. The Chinese are highly unlikely to help Trump with trade talks if he interferes in what they consider a domestic matter. That said, both sides have incentives to reach a mini-deal that could help President Trump secure his support in rural America with some Chinese purchases of agricultural products and the US giving needed licenses to Chinese technology giant Huawei Technologies. Talks are scheduled for next Thursday and Friday. Also on the trade front, the World Trade Organization handed down a final ruling favoring the U.S. in its complaints against the European Union over subsidies to Airbus (EADSY). The decision allows the US to place tariffs on EU imports and, surprise, surprise, the tariff-happy Trump Administration responded with over $7 billion of tariffs on EU goods ranging from clothing to cheese. The EU is expecting a similar ruling in their favor by the WTO focused on aid by state governments to help Boeing (BA). The EU has threatened to impose retaliatory tariffs on U.S. products. Both sides will start talks in the coming months to try to tamp down the tensions. And the tariff beat goes on. An interesting side story to watch in the coming weeks is whether or not the Trump Administration has any interest in working with Congressional Democrats to demonstrate that government business can be conducted during the impeachment investigation. Two areas have been the focus of some initial discussions: approval of NAFTA 2, or USMCA as it is now known, and action aimed at lowering the price of prescription drugs. Time will tell if the passion of impeachment blocks all other business. Congress and the President will need to take some action on government spending prior to the next deadline of November 19. Finally, the weak ISM data that came out this week likely points to another 25bps cut by the Fed at their end of the month meeting. For more see pages 1 and 6. Figure: Top Trump Tweets The U.S. won a $7.5 Billion award from the World Trade Organization against the European Union, who has for many years treated the USA very badly on Trade due to Tariffs, Trade Barriers, and more. This case going on for years, a nice victory!— Donald J. Trump (@realDonaldTrump) October 3, 2019 Massive sections of The Wall are being built at our Southern Border. It is going up rapidly, and built to the highest standards and specifications of the Border Patrol experts. It is actually an amazing structure! Our U.S. Military is doing a GREAT job.— Donald J. Trump (@realDonaldTrump) October 2, 2019
Debt Ceiling Deadline Looms; UK-Iran Standoff in Gulf
President Donald Trump continues to push the envelope on partisanship with the reported roundup of illegal immigrants as early as this weekend. As this takes place, tensions are growing over the need to increase the debt ceiling, which if not accomplished, could pose serious problems for federal government finances this fall. While the Treasury Department has yet to notify Congress of a "drop dead" date for the ceiling raise, there are reports lower federal inflows may be accelerating the date earlier than mid-October. In Congress, Federal Reserve Chairman Jerome Powell said it would be "unthinkable" for the US government to default on a payment because of the failure of Congress to increase the debt ceiling (see page 6). Meanwhile, House of Representatives speaker Nancy Pelosi has been dealing with internecine fighting within the Democratic caucus and will need to use all her political skills to get the votes together to increase the debt ceiling, always a tough vote. The Democrats are likely to need assurances from the Senate Republicans and President Trump that the spending caps called for under the sequester provisions of the Budget Control Act will be lifted for domestic spending and not just defense spending. Without such a deal it will be a real challenge for the speaker to round up the votes to secure passage of the debt ceiling. The House is scheduled to leave town for their August break on July 26 and not return until after Labor Day in September. Perhaps Congress and the White House could come up with a short-term increase, even days or weeks, but we could have a completely avoidable crisis on the horizon. Stay tuned. Separately, there are reports U.S. Treasury Secretary Steven Mnuchin has been suggesting to U.S. suppliers of Huawei Technologies that they seek licenses allowing them to resume sales to the Chinese firm (a Treasury spokeswoman denied the story). The US in May banned U.S. firms from selling parts to Huawei, which was required to receive government approval before acquiring technology from US firms. President Trump is looking for a trade deal with China (or near certainty of one) as the reelection season will soon kick off. Further easing of these restrictions on one of China's most prized global companies would not be surprising. International relations must seem like the whack-a-mole game, sometimes. Just as the U.S. and China try to ratchet down trade tensions, potential conflict in the Middle East boils over. Last week, three Iranian vessels tried blocking the passage of a U.K.-flagged oil tanker on its way through the Persian Gulf. A British warship came to the rescue. US sanctions on Iran are hurting the country's economy, and things likely will get worse if the there's no diplomatic relief. Additional sanctions may be forthcoming as Iran has continued to breach prior commitments on uranium enrichment. The standoff continues. …. If Mexico produces (which I think they will). Biggest part of deal with Mexico has not yet been revealed! China is similar, except they devalue currency and subsidize companies to lessen effect of 25% Tariff. So far, little effect to consumer. Companies will relocate to U.S.— Donald J. Trump (@realDonaldTrump) June 11, 2019 …. companies to come to the USA and to get companies that have left us for other lands to COME BACK HOME. We stupidly lost 30% of our auto business to Mexico. If the Tariffs went on at the higher level, they would all come back, and fast. But very happy with the deal I made,…— Donald J. Trump (@realDonaldTrump) July 12, 2019 I am not a fan of Bitcoin and other Cryptocurrencies, which are not money, and whose value is highly volatile and based on thin air. Unregulated Crypto Assets can facilitate unlawful behavior, including drug trade and other illegal activity….— Donald J. Trump (@realDonaldTrump) July 12, 2019
DC Forecast: Rising Temps and Hot Tempers
The U.S. Congress returns next week from its July 4th holiday break, and representatives then have only three weeks before they leave Washington again for the traditional August recess. Nice work if you can get it. This abbreviated schedule leaves just over 30 legislative days for the Democrats in the House, the Senate Republicans, and the White House to come to an agreement on the budget for the new fiscal year prior to the October 1 deadline. While there has been one meeting between the senior White House staff and Congressional leaders, it didn't' include President Donald Trump. Complicating any potential budget agreement is the mandated sequester cuts of over $120 billion required by the Budget Control Act of 2011 (BCA), a compromise agreement reached under divided government during President Barack Obama's Administration. The deal included mandatory reduction in spending unless Congress takes specific action. Since 2011 Congress and the White House have indeed passed two-year spending agreements, avoiding the sequester cuts, every year but 2013. The current suspension of BCA sequestration cuts covered fiscal years 2018 and 2019; therefore, a new suspension is required to avoid the cuts, which typically are divided between defense and non-defense spending. The President and his Republican allies would like to forestall the $70 billion of defense cuts under sequestration but maintain the $50 billion in non-defense cuts. This, however, is clearly unacceptable to the Democratic-controlled House; hence both sides are searching for a compromise. The past agreements have been for two years, to avoid the threat of a government shutdown and large cuts in an election year. However, President Trump likely relishes the idea of high drama over government spending on the eve of the 2020 presidential race. To date he's not been willing to increase non-defense spending as part of a deal with House Democrats. The legislative leaders would like to craft a two-year bipartisan spending deal and a two-year suspension of the debt limit. Short of action on the debt limit there could be a default on some government payments later this year. Not a particularly attractive prospect for markets. At that meeting a few weeks ago of Administration and Congressional leaders the White House staff suggested a continuing resolution (CR) for one year and reported that the President could support this deal. The one-year CR would also take care of the debt ceiling for a year. Over the next few weeks, Congressional action will be likely consumed by the FY 2020 budget, in order to avoid a government shutdown, agreeing on a budget deal that again suspends the mandated sequestration cuts, and resolving the potentially devastating impact of a debt default. In the middle of all this, House Democrats will be further distracted as they attack President Trump on issues ranging from migrant children at the border to their continuing fight to get his tax returns. Hot temperatures and hot tempers are likely to be the forecast for July in D.C. China and Europe playing big currency manipulation game and pumping money into their system in order to compete with USA. We should MATCH, or continue being the dummies who sit back and politely watch as other countries continue to play their games – as they have for many years!— Donald J. Trump (@realDonaldTrump) July 3, 2019 Mexico is doing a far better job than the Democrats on the Border. Thank you Mexico!— Donald J. Trump (@realDonaldTrump) July 3, 2019 Iran has just issued a New Warning. Rouhani says that they will Enrich Uranium to "any amount we want" if there is no new Nuclear Deal. Be careful with the threats, Iran. They can come back to bite you like nobody has been bitten before!— Donald J. Trump (@realDonaldTrump) July 3, 2019
Congress-White House Fiscal Cliff Discussions: No Deal
The quiet discussions between the U.S. Congress and the White House about the upcoming fiscal cliff ended last week with no deal and no date to meet again, a not particularly auspicious beginning. Congressional leaders, senior White House staff and the Treasury Secretary met to talk about a budget deal to forestall a government shutdown on October 1; remove budget caps that would mandate $120 billion in budget cuts, and increase the debt ceiling. Congress wants a two year agreement with the White House, to remove the threat of a government fiscal crisis past the 2020 elections. Apparently, the Administration wants a one-year deal. And while pushing for more money for defense, it appears willing to keep existing spending levels with a "continuing resolution" rather than a broad spending agreement. Unfortunately, this strategy is not the best one for markets; it would—if agreed to—at least delay a government crisis. Investors should focus on the G-20 meeting in Japan between Presidents Donald Trump and Xi Jinping. The American president reported that the two talked this past week and that it was a good conversation that led to the agreement to meet. President Trump also reported that the two directed staff to meet this week, though there haven't been any reports of progress at the staff level. With little in the way of pre-meeting progress, I find it hard to foresee a major breakthrough any time soon, but both sides appear willing to repeat the progress they made last year when they met at the G-20 in Buenos Aires and agreed to a trade war standstill. This would delay the tariffs President Trump is considering on $300 billion of Chinese imports into the US. Investors can only hope for some advancement in the talks.