This document is being provided publicly in the following form. Please subscribe to FSInsight.com for more.
Report Card: Signal From Noise '19 Picks: 74% Win Rate, Beat SPX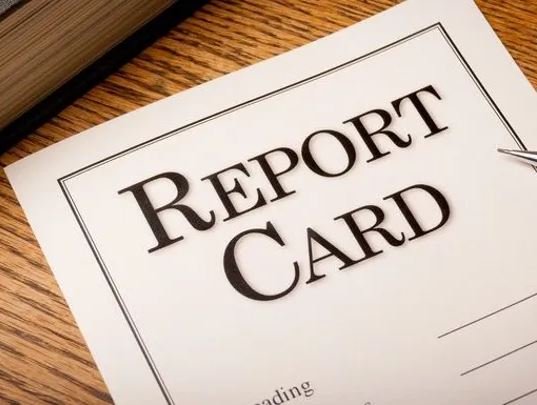 – SFN picks average return 11% from publication date, beat SPX by 30 bps
– Winners: TGT +46%; WW +67%; CAT and OSK + over 20%; ARCO +27%; SKX +21%
– Losing stocks include BYND, ZS, EYPT, GWPH. Bull market helps
The turn of the new year is report card time for those of us foolish (brave?) enough to handicap the market and stocks. I won't keep you waiting: the average return of our calls since the relevant publication date is 11%. Outperformance versus the SPX, again from date of publication, is 30 bps. Since the end of May SFN made 24 calls of which 19 are evaluated. The win rate is 74%. It's too early to tell on the remaining five calls.
Signal from Noise (SFN) and www.fsinsight.com use data, history, fundamental and technical analysis and common sense to publish a view of which stocks might—or might not—do well and why, over the intermediate term. I try to incorporate the known risk factors. Gains are what we want, but preservation of capital is just as important.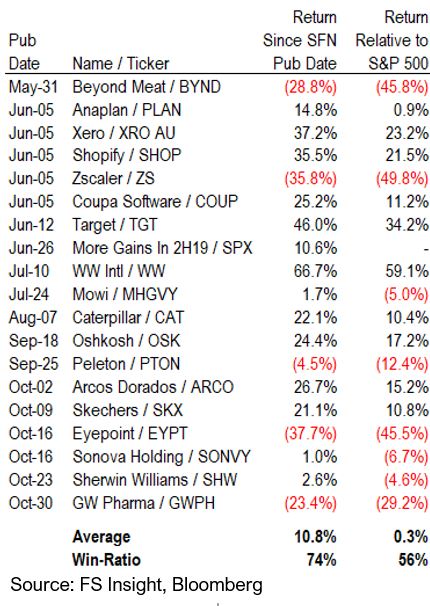 SFN inaugurated May 31 last year, and if I might be allowed to say, it was a good year for SFN. I list the specific picks made into three buckets: Winners, Losers and Too Early to Tell. I will focus on those that did spectacularly well—or badly—and leave the middling returns for readers to see in the table below. Not every single SFN column has been evaluated numerically as some, like "Low Rates Could Spur M&A Surge," Aug. 14, are not directly amenable to a return calculation. Even so, according to a recent article in The Wall Street Journal, the value of U.S. deals rose 12% to $1.8 trillion in 2019.
Let's say it here, up front: Yes, a strong bull market in the second half of 2019 aided my picks, for obvious reasons. But, hey, I also wrote that 2H19 would be better than the first: "After a Strong 1H '19, Potential Is For More Gains in 2H," June 26. Since then the SPX is up 10.6%. My picks went across many different industries. (Returns priced from publication date to close on Dec. 30.)
Winners: Thinking about both return and the bigger picture, our positive call on Target (TGT) was gratifying, not only because the stock is up 46% since then but because I like to point out that Target gets it. The management and culture at this "bricks and mortar" store is successfully battling Amazon (AMZN) and the online threat. It is an online threat itself.
The cloud software picks outperformed (June 5), with an average rise of 31% for four of the five stocks that went up but one stock fell 36%. (See nearby table.) I repeat: software is eating the world and those companies in the cloud computing sector, though still richly-valued, are growing like weeds. Cloud investments will be very important for the corporate world.
WW International (WW), formerly known as Weight Watchers, was actually a very typical pick with an atypical rebound, up 67%. I like finding stocks where Mr. Market concludes that a near-term problem is fatal. I look out a year or two. But Mr. Market can get overemotional in the short term and knee cap a stock far beyond what the problem portends. The market regularly throws out the baby with the bathwater.
In the case of WW it was, among other things, the latest diet craze, ketogenic, that did the shares in. But that's exactly what it was: a fad. Meanwhile, WW has been around a long time and offers a proven weight loss program. Turns out the entire world isn't moving to keto.
Similar, the call on both Caterpillar (CAT), up 22%, and Oshkosh, (OSK), up 24%, both heavy industry companies, was straightforward. As a firm, we believe that a recession in 2020 is unlikely and that the battering such stocks took in 2019 would turn out to be a buying opportunity when our view won out. Moving on to a completely different animal: Arcos Dorados, (ARCO) the biggest McDonald's franchisor in the world, was up 27% since publication. It's a turnaround story and I pointed out there are budding signs of improvement. Mr. Market now believes us.
It was an interesting year for IPOs, especially the one that didn't happen: We Work. SFN was negative on it, but perhaps not negative enough. Nevertheless, it affected IPO pricing. I was and remain positive on Peloton (PTON) for the next few quarters but the stock is down a bit.
My report that suggested UK stocks would run hot if the Tories won the Dec. 12 election was a simple matter. The Conservatives had the lead and it was logical that a market friendly party would help British stocks more than the Stalinists in the U.K. Labor Party. Still, elections are funny things and it could have been a surprise, as Brexit itself was.
Losers: The Beyond Meat (BYND) IPO was interesting for several reasons. The company is the first of its kind to go public and true comps were not available. SFN said basically not to short the shares at $98, as it was too much of a story stock. Technically, the stock is down 29% since our report's publication, so I was wrong. However, in between those periods the stock went from $98 to $240 eventually before falling back to $78, so if you did short it you would have enormous paper losses at one point. I'm guessing that you might have thrown in the towel. It was better just to leave it alone.
I didn't do well in the healthcare sector. Shares of Eyepoint (EYPT) fell 38%. EYPT missed third quarter numbers and investors are worried about bond covenants. However, I still think EYPT will prove a winner. GW Pharmaceuticals (GWPH) keeps getting buffeted by unrelated bad marijuana news but as I pointed out in the report, GWPH is at a big remove from that market. I still think the stock goes up longer term.
To Early To Tell: This concerns November and December reports, as generally there hasn't been enough time passing for these ideas to play out. Let's check back later this year. I also point out that www.fsinsight.com is a team effort, with input by Tom Lee, head of research, and by Robert Sluymer, our technical analyst.
Bottom Line: SFN's picks did well and in the inherently self-interested act of grading our own picks, I give SFN an A-. Feel free to write in your own views to me at vito.racanelli@fsinsight.com.
Prior "Signals"
| | | | |
| --- | --- | --- | --- |
| Date | Topic | Subject / Ticker | The Signal |
| 12/26/19 | Market | Stock Market 2020 | 2020 Could Be the Year "Animal Spirits" Return to Equities |
| 12/18/19 | Stock | Ulta Beauty (ULTA) | Ulta Beauty Shares Whacked 35%; Stock Looks Cheap |
| 12/11/19 | Market | UK Stock Market | Conservative Election Win Should Boost Lagging UK Stocks |
| 12/4/19 | Stock | Capri Holdings (CPRI) | Capri Holdings Recovery, Makeover Could Send Stock Higher |
| 11/27/19 | Style | Value | When a Value Stock Is a Value Trap |
| 11/20/19 | Stock | Aaron's (AAN) | Roughed Up Aaron's (AAN) Stock Looks Undervalued |
| 11/13/19 | Stock | Bed Bath & Beyond (BBBY) | Bed Bath & Beyond Fixable; More Best Buy Than Blockbuster |
| 10/30/19 | Stock | GH Pharmaceuticals (GWPH) | Undeservedly Caught Up in the Volatile Marijuana Stock Fad |
| 10/23/19 | Stock | Sherwin Williams (SHW) | Sherwin Williams Paints a Pretty Profile |
| 10/16/19 | Stock | Eyepoint (EYPT), Sonova (SONVY) | Both cater to the increasing vision, hearing needs of seniors |
| 10/9/19 | Stock | Skechers U.S.A (SKX) | Volatile Skechers stock could be ready to roll higher |
| 10/2/19 | Stock | Arcos Dorados (ARCO) | Arcos Dorados Shares Undervalued; Turnaround In Sight |
| 9/25/19 | Stock | Peloton (PTON) | Peloton IPO Offers Growth, Scarcity Value—For Now |
| 9/18/19 | Stock | Oshkosh (OSK) | For investors with a long term horizon, OSK looks cheap. |
| 9/5/19 | Market | BBB bond mkt implosion overdone | Don't sweat the BBB market so long as market chugs along |
More from the author