This document is being provided publicly in the following form. Please subscribe to FSInsight.com for more.
COVID-19 bad news / good news. MIXED NYC: Hospitalizations down. Queens + Brooklyn relapse, Manhattan improve. GOOD: Italy FTSE MIB outperform sync'd with cases. REMEMBER MARKET SYMMETRY
There most notable change in market character, since Tuesday of last week, is the ability to absorb bad news, without an instant "limit down" move. Today, the Dallas Fed (regional PMI) posted a -70, the worst ever reading (since 2000) and yet the S&P 500 managed to close near a recent high.  Many will dismiss the strength today, attributing it to the anticipation of the quarterly rebalance (pensions saw outperformance of bonds in 1Q, thus, will sell bonds buy stocks).  But this effect is not really any different than the mechanical effects of systematic de-leveraging.  Thus, if stocks recover and breach key technical levels up, these should be respected.

On the COVID-19, there is a general and subtle shift in the news cadence and thus, reaction and feedback from our clients.  Notably, it seems that investors feel the White House has found its "game plan" and there continues to be rapid positive progress on the healthcare side.  With the availability of quick testing, a much clearer picture of outbreaks can be developed.

But overall today, there is mostly good news but there are some setbacks.

POINT #1: "TWO STEPS FORWARD, ONE STEP BACK". HOSPITALIZATIONS DOWN.  NEW YORK CITY, QUEENS + BROOKLYN RELAPSE BUT MANHATTAN IMPROVING…
Posting daily updates on a regional breakout has a natural drawback–data will be lumpy.  But the reason we do this is because we are trying to calibrate whether the spread is "exponential" (bad) or "linear" (better) or "improving" (VERY GOOD).

With the latest update from NYC (link–>NYC.gov link here), we see a "two steps forward, one step back".  Let's start with the bad:

BAD: Queens + Brooklyn see a surge in cases…
The bad news is Queens and Brooklyn saw a surge in new cases today.  Queens reported 2,019 new positives and Brooklyn 1,284. Both are new highs but not exponential new highs. 

– There is some reason to believe some communities in Brooklyn and Queens are not following "social distance" directives.  There is a pretty comprehensive WSJ article discussing this (link –> WSJ article from March 30) and how some religious communities could have inadvertently contributed to the spread. 

– Anecdotally, we are aware of some large "underground weddings" taking place in the NYC area.  These are unfortunately going to contribute to the spread.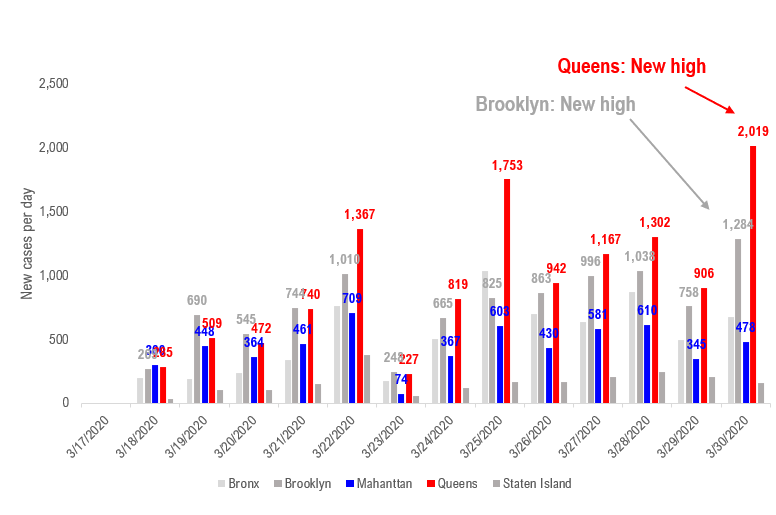 GOOD: NYC Hospitalizations down to 331…
Hospitalizations dropped on 3/30 as shown below.  After two days of >1,000 "gross hospitalizations," the figure dropped to 331 today.  This is a pretty lumpy data set (see below) but it is still a positive.  Hospital capacity remains key.

– and we are not confident saying hospitalizations are going to fall.  There is a 5-day lag of symptom vs virality and it could worsen.  But again, the key is linear vs exponential.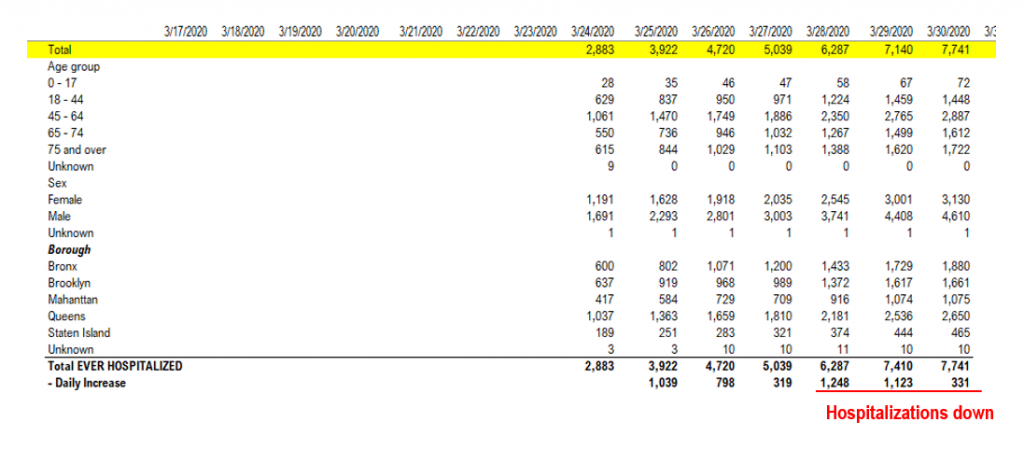 GOOD: Manhattan seems to continue to improve — social distancing working…
We have focused on Manhattan as the case study for improvement, partly because of the importance of Manhattan as the epicenter for the economic engine for New York City (please don't roll your eyes if you are a Brooklyn fan).  In this sense, Manhattan continues to show relative linear growth in cases, not exponential.

– the latest update (evening of 3/30) shows 478 new positive confirmed cases for COVID-19 in Manhattan.  Still, well below the 709 seen on 3/22/2020.  This is a good thing. 

– Recall, epidemiologists were calling for a doubling of cases in Manhattan every 3-4 days.  Thus, from 3/22/2020, the daily new cases should be at 3,000 per day now.  Instead, we are seeing 478.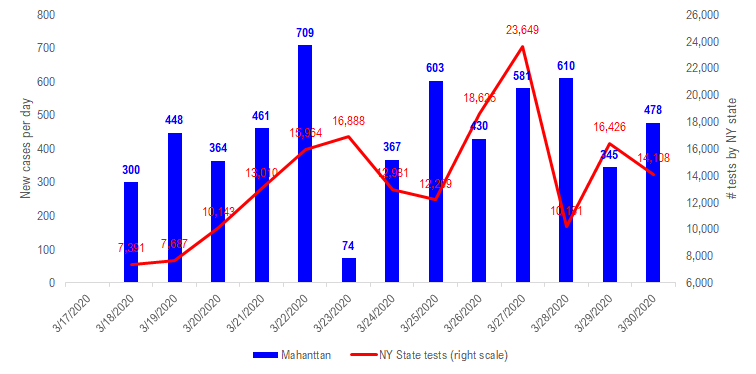 POINT #2: ITALY SHOWS THAT CASE PEAK = EQUITY MARKET BOTTOM
Italy's daily new cases have remained below the 6,557 reported on 3/21/2020.  The latest figure was 4,050 which is encouraging, 39% below the highs.  Given this peak was achieved 12 days after the strictest measures were taken, is a guidepost for how such measures will impact the US path.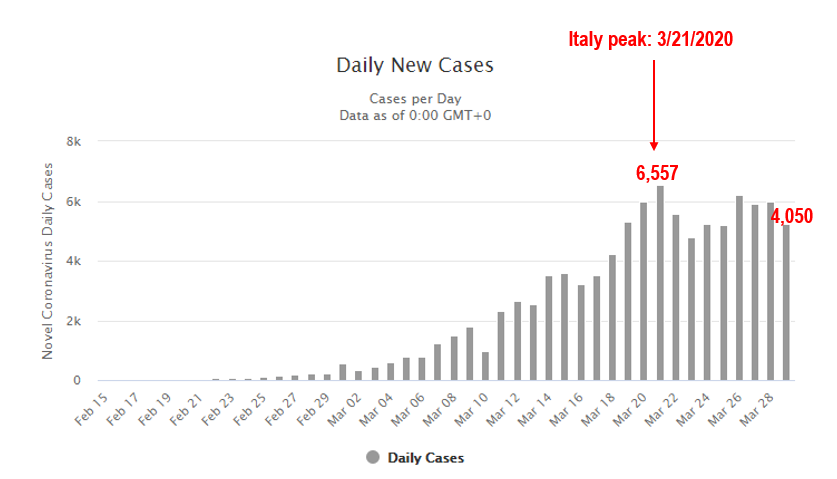 The FTSE MIB bottomed around the peak on "daily new cases"…
The relative performance of the FTSE MIB is shown below (vs ACWI) and we used ETFs to make trading intervals comparable.  As shown below, the MIB bottomed on 3/17/2020.  

– Think about that.  Italy's case numbers have been horrifically high.
– Yet, the Italian stock market began to outperform on 3/17/2020.

Arguably, the stock market will "sniff out" peak cases before peak cases are reported.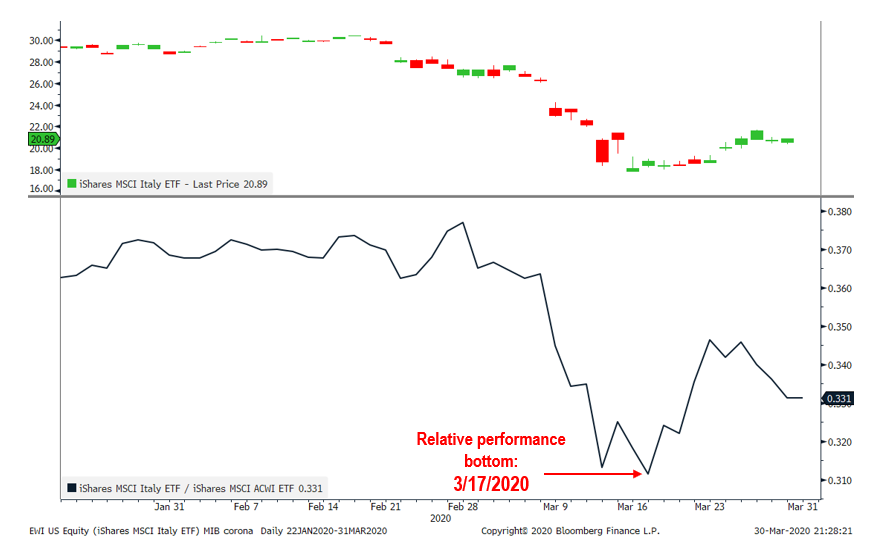 POINT #3: US COULD SEE PEAK CASES BY APRIL 6TH, 2020 (ITALY TEMPLATE) AND STOCKS COULD BOTTOM AHEAD…
The outbreaks are localized.  Meaning, an outbreak in New Orleans is not constrained by the curve of New York City.  That said, every locality is watching NYC and learning.  And social distancing has been in place for some time. So, there is a possibility that the curves will be flatter in other areas.

– If the US can match the outcome of Italy, this daily case peak could occur within the next week.  Granted, this is WAY EARLIER than official White House guidance (late April) and by the CDC. 

– We are not making any forecasts.  But simply noting that Italy, China, and South Korea all saw measurable improvements by day 43-ish.  Day 43 equivalent for the US is April 6th.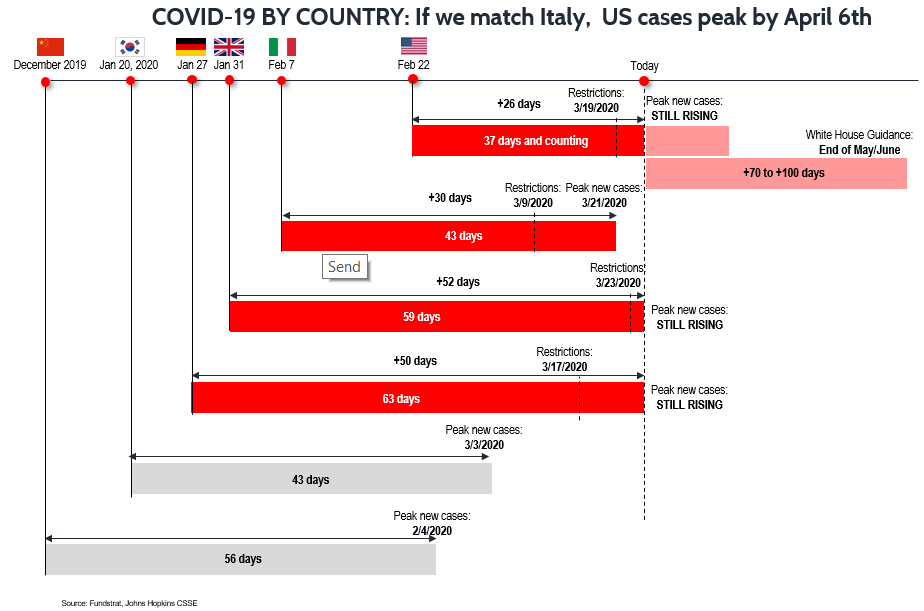 POINT #4: MARKET SYMMETRY.  RECOVERIES ARE NOT 'L-SHAPED' NOR 'U-SHAPED' OR ROUBINI 'I-SHAPED'
Based on our many conversations in the past few weeks, about half of our clients expect the S&P 500 to fall to 1,700.  Thus, many believe we are nowhere close to a bottom.  And if the outbreak worsens and extends in the Summer, perhaps that view is correct.  But we know some type of structural bottom took place last week.  The change in market tone is evident.  And Lowry's registered a conventional buy signal following 3 80%-90% up days.

SYMMETRY: The speed of decline determines the speed of the recovery. 50% of recovery takes 0.5X the time…
We think investors are underestimating how quickly stocks will recover.  (We wrote about this a few weeks ago) and that history shows the speed of recovery is proportionate to the decline. 

– This symmetry is key.  Half of the losses should be recovered within 0.5X of the time. We fell over 6 weeks, thus, a recovery to 2,800 should only take 3 weeks. 

– And it seems like this symmetry is playing out.

– The last 3 major declines of >30% are shown below.  And you see the symmetry.

This suggests that full recovery, contingent on cases peaking in early April, could be seen by July 2020.  2.5X the time to new highs vs speed of decline.

Yup… that is what history points to.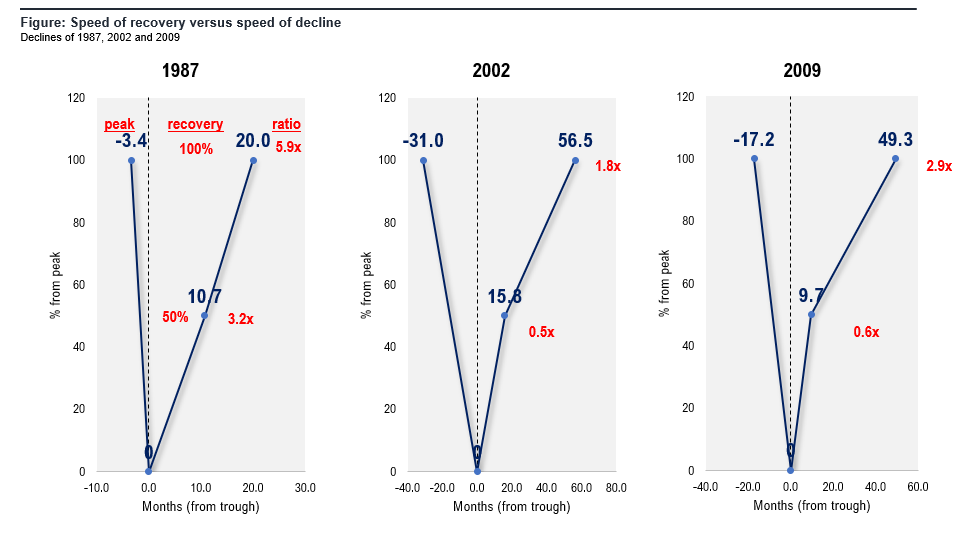 Looking at the 10 declines since 1920 of >30%, this symmetry still holds.  The median time to new highs is 2.5X the speed of the decline.  Basically, equities are like rubber bands.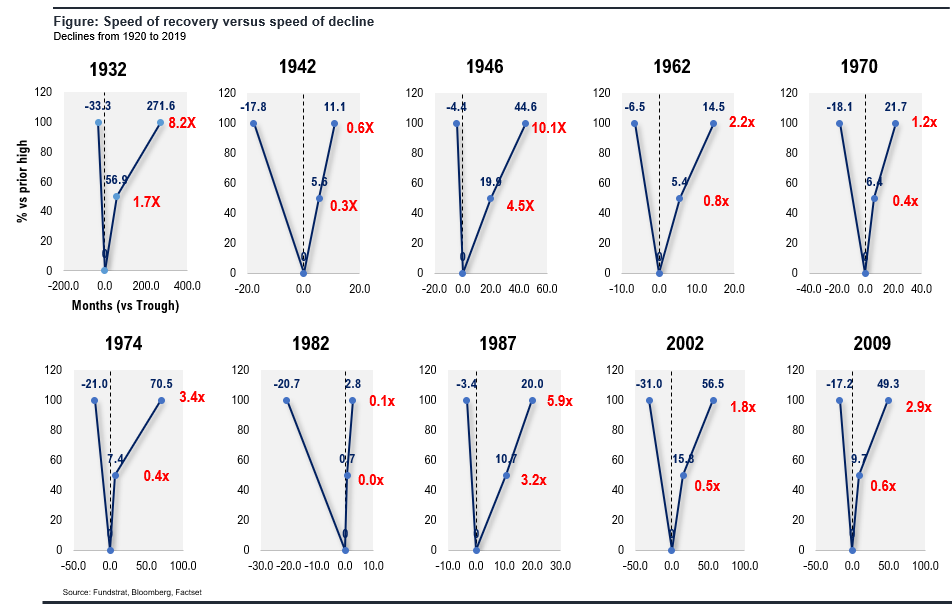 Brian Rauscher, Global Portfolio Strategist, believes a potential 2H2020 surprise is "new highs for S&P 500"
– Incidentally, this is consistent with the view of Brian Rauscher, Fundstrat's Global Portfolio Strategist, who believes markets could be surprised by new highs by 2H2020.

Shown below, the implied date for a new high, contingent on an early April peak of US cases, is mid-2020.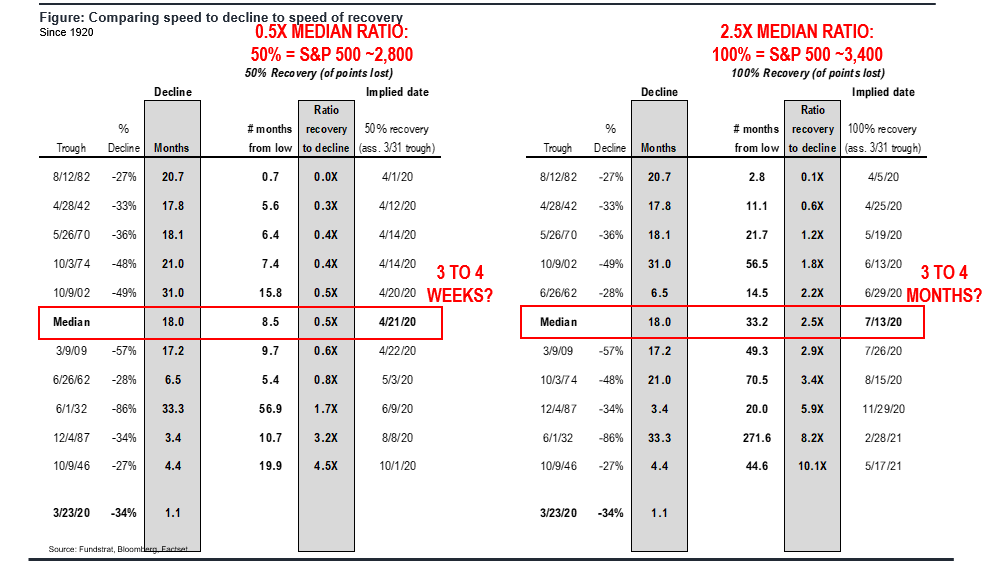 More from the author