This document is being provided publicly in the following form. Please subscribe to FSInsight.com for more.
Imperial College reduces their forecasts for UK deaths down by 96% to 20K from 500K
Recall a few weeks ago, there was a widely circulated Imperial College study, one which showed the US would see deaths of 2-6mm (Original study here) and unless the US quarantined everyone until a vaccine was met, there would be more deaths than all the wars combined.

This is the reason the White House dramatically shifted strategies and basically shutdown the whole economy.

As you are aware, we have shared that since that time, academics have questioned this study and argued that targeted and more strategic isolation is better.

Well, it turns out those authors of the original study now revised DOWN their estimate of deaths by 96%.  For the UK, according to the article below.

Yup, 96%.  Not 5%, not 10%, by 96%.


POINT: Does this change anything? Yes it does.  Downside scenarios getting reduced odds, or eliminated…

First, it suggests that the apocalypse scenarios that many clients are basing their risk positions upon is flawed–this is going to turn to risk on eventually.

Second, it suggests that the US could sooner pursue "shutdown light" which is far less damaging to the economy and to the confidence of the consumer.

Third, coupling these revised projections with a healthcare solution (looks like Chloroquine is working) points to "fear" among consumers abating soon.


POINT: V-shaped rallies are common, at least for recovering 50% of the losses–thus, S&P 500 2,800 could be seen within next 3 weeksSince 1920, there have been 10 declines >30% in US markets.  And as shown below, the path of recoveries is generally V-shaped.

– the time required to recover half of the losses is 0.5X the time for the initial decline.
– the current decline was 6 weeks and we could see 50% retracement in 3 weeks.

The assumption, which could be wrong, is that a major bottom was established this week.  This is corroborated by the work of Tom DeMark.  And now we got Lowry's registering a conventional buy signal.  So good odds.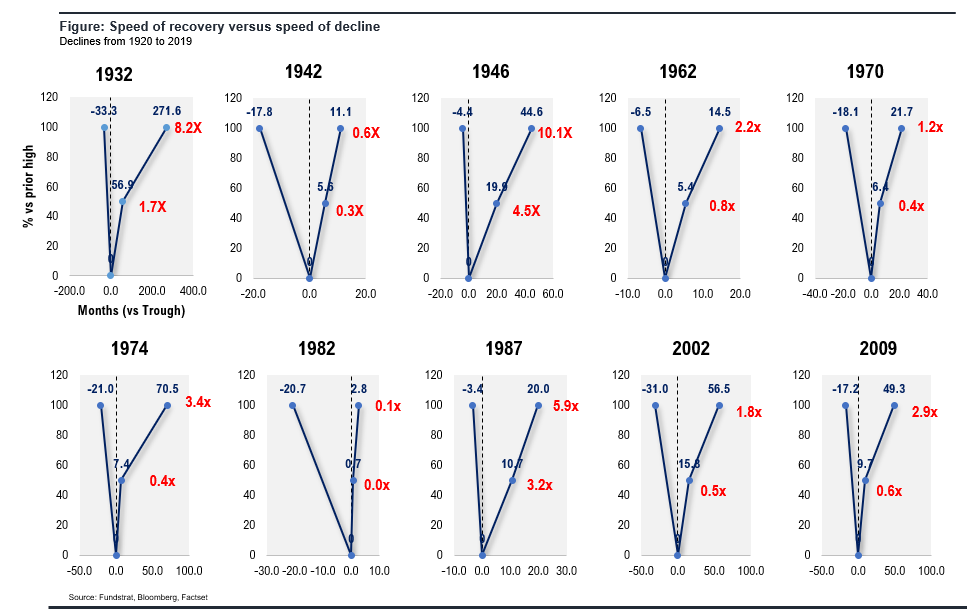 POINT: Timeline is showing we are in the nadir of the "Valley of bad news" and markets bottom on bad news
Markets bottom on bad news.  We got freakishly bad news today but stocks are up.  That is a good sign.

– more bad news coming.  Earnings season will show vastly diminished earnings power but is that a surprise?
– we think investors should be focusing on winners vs losers.

We will have a stock screen showing such a possible list on Friday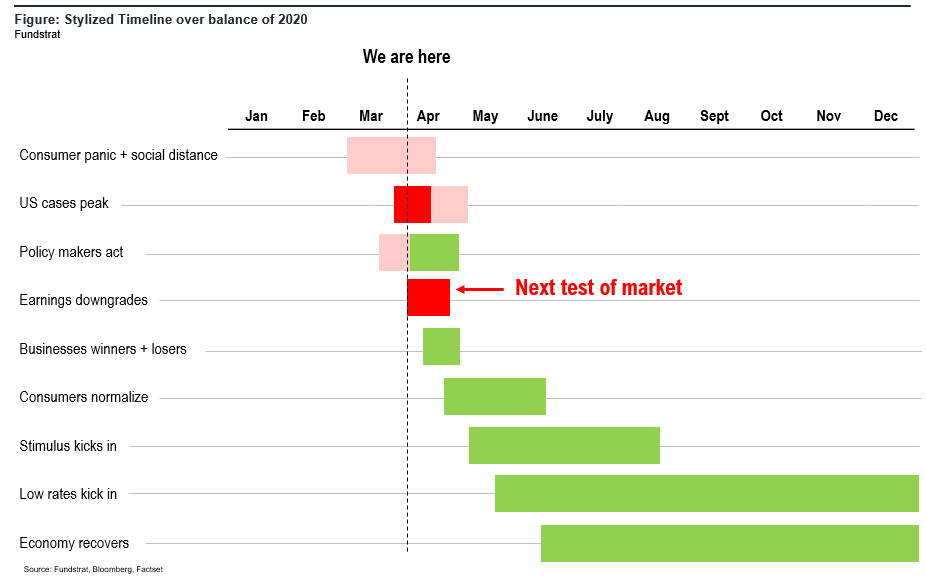 Imperial College scientist who predicted 500K coronavirus deaths in UK revises to 20K or fewer
by Andrew Mark Miller | March 26, 2020 11:59 AM
 
A scientist who warned that the coronavirus would kill 500,000 people in the United Kingdom has revised the estimate to roughly 20,000 people or fewer.


Scientist and Imperial College author Neil Ferguson said Wednesday that the coronavirus death toll is unlikely to exceed 20,000 and could be much lower, according to New Scientist. He added that he is "reasonably confident" that Britain's health system can handle the burden of treating coronavirus patients.


"There will be some areas that are extremely stressed, but we are reasonably confident — which is all we can be at the current time — that at the national level we will be within capacity," Ferguson said.


The Imperial College had previously warned of modeling that suggested over 500,000 would die from the virus.

"This is a remarkable turn from Neil Ferguson, who led the @imperialcollege authors who warned of 500,000 UK deaths – and who has now himself tested positive for #COVID," former New York Times reporter Alex Berenson wrote on Twitter.

Ferguson credited the U.K.'s lockdown for stopping the spread of the virus, but as Berenson points out, the country "only began its lockdown 2 days ago, and the theory is that lockdowns take 2 weeks or more to work."


"Now that we are seeing that the ICU bed & vent projections from orig Imperial College study are almost certainly WRONG, it is critical that we think immed about staggered, gradual opening of our country with new protocols," Fox News host Laura Ingraham said on Twitter following the revised projections.


"The guy behind the doomsday Imperial College model now says he expects UK not to run out of ICU beds and UK deaths 'unlikely to exceed 20,000 and could be much lower,'" American Commitment President Phil Kerpen tweeted.


Stanford scientists recently wrote an opinion article suggesting that more information is needed before settling on a coronavirus mortality rate and posited that mass quarantines aren't necessarily the most logical answer to combating the virus.


Almost 500,000 coronavirus cases have been confirmed across the globe, and over 22,000 people have died, while almost 120,000 have recovered.
More from the author