This document is being provided publicly in the following form. Please subscribe to FSInsight.com for more.
COVID-19 HYSTERIA VS 10-DMA HISTORIC OVERSOLD. IF WE DON'T RALLY WED, THIS IS DOUBLE NOT NORMAL
Equity markets sold off Tuesday, despite the 'surprise' Fed cut — and while many suggested this meant the cut was ineffective, think about Fed action for the past decade.  The initial market reaction is not the ultimate market reaction (and given the effect on the yield curve, it should be ultimately positive).

Still, Tuesday's continuous weakening and nearly 1,000 point drop in the Dow Jones further got more investors to focus on the worst case scenario — that either (a) solution to COVID-19 requires governments to resort to a form of Martial Law, which drives the world in recession, or (b) COVID-19 becomes pandemic and kills consumer confidence sufficiently to drive a recession worse than 2008.

These are plausible outcomes, but hardly the central case.  Consider other outcomes:
– Vaccine or treatment is developed; 
– New forms of hygiene are imposed such as 'washing stations/disinfection stands' required to enter any public venue, ala how metal detectors are the norm today;
– Social distancing works — in the US, many are taking this proactive measure;
– Spring weather comes and the disease could burn out;
The point is, the central case, is not necessarily pandemic, but investors are increasingly positioned for that.

POINT #1: SELLING EXHAUSTION–LOWRY'S DATA SHOWS S&P 500 SPENT 6 CONSECUTIVE DAYS WHERE % STOCKS >10D MAVG IS BELOW 10…
We are fans of Lowry's internal market structure data (lowryondemand.com), in part, due to the fact the company has data sets stretching >70 years.  Their daily comment today caught our eye — they noted the S&P 500 now has spent 6 consecutive days where the % stocks > 10DMA <10%.

– Lowry's previously noted that we have seen 3 (arguably 4) 90% down days — where 90% of the volume is down and 90% stocks are down. 

– This is a precursor to a bottom (exhaustion of selling), and we need to see a 90% up day to confirm the bottom.




POINT 2: RALLY COMING WED AM (3/4) AND IF DOESN'T HAPPEN, THIS MEANS STOCK MARKET IS 'EXTREMELY' NOT NORMAL
Over the past 40 years, there have been only 4 instances where stocks spent 6 days where % >10-DMA is less than 10.  Think about that, out of 10,000 trading sessions since 1989, only 4 times were stocks this oversold. We highlight the 4 instances below:

– 4 of 4 times, stocks rallied on day 7 –> day 7 =  March 4th (Wed).
– Average and Median 1D gain is 6.0% and 4.8%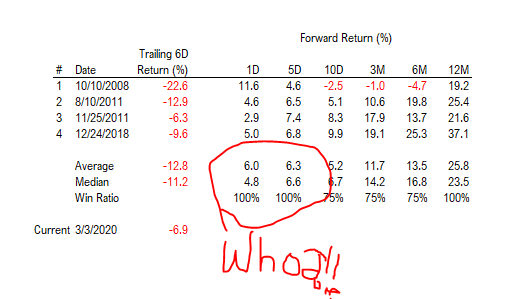 BOTTOM LINE: THIS WEEK IS ARGUABLY A TEST — HAS MARKET STRUCTURE CHANGED OR IS OVERSOLD = OVERSOLD
The takeaway, in our view, is that stocks have reached a point where a material and sustained rally historically takes place.

We are in a new world where systematic trading, zero commission, ETFs, derivative greater than cash, and virtually frictionless money movement, could make stocks merely a 'video game.'

But isn't valuation a floor? And shouldn't exhaustion of selling matter?

Investment grade corporate bonds have a 40X P/E (2.5% yield) and the US 10-yr has a 110X P/E now (0.9% yield).

– Yet, people think the S&P 500 is 'ludicrously' expensive at 16X P/E.  Sanity check PLEASE!!!!


More from the author
Want to receive Regular Market Updates to your Inbox?