This document is being provided publicly in the following form. Please subscribe to FSInsight.com for more.
4 reasons >60% probability equity markets will bottom this week even as COVID-19 remains scary. 15 stocks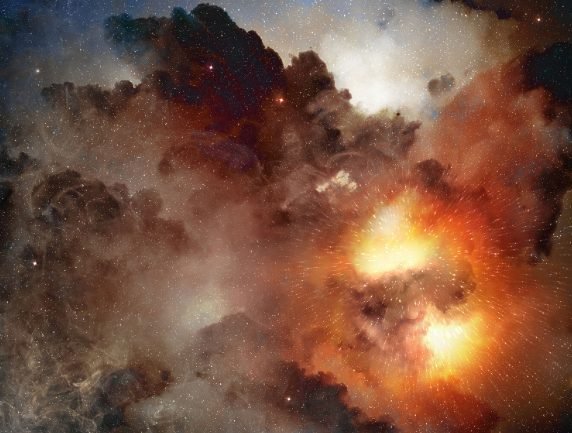 The concerns about the economic ripples of Corona virus (COVID-19) are spreading and the path of spread is still unknown.  And because there are multiple outcomes, it is logical for markets to take a step back — hence, stocks have fallen off a cliff. What may surprise investors is that the 3% sell-off we saw yesterday is probably a buyable moment.  

We think there is a 60%-70% probability that stocks will bottom this week, even as COVID-19 concerns linger for potentially months.  

4 reasons:

– 3% sell-off + PMI>50 + non-recession = 94% chance stocks higher 6M later with 10% median gain (87%/89% 3M/12M).

– trifecta bottom set up this week –> RSI <33, AAII going to tank -20, VIX>26.  this has signaled bottom of last 7 5%-plus declines.

– US stocks remain global safety trade and with $300T of global HH wealth and only $25T US stocks, there is not enough SPX to go around.

– best biz cycle barometer, US long-term YC spread (30Y-10Y) is steepening, not flattening so it is arguing that pandemic not the trajectory.

BOTTOM LINE: CORRECTION NOT TOP
We still believe the base case and correct playbook is to treat this sell-off as a correction in a bull market.  If biz cycle was turning, the YC at the long-end should be inverting, not steepening.  So we are buying this pullback and see a 94% odds markets are higher in 6M.


POINT 1: STOCKS USUALLY BOTTOM AFTER A 1-DAY 3% DROP, 94% OF TIME –> PMI>50 + NOT IN RECESSION
There are 47 instances since 1948 when we saw a 1-day drop of markets while US still in expansion and PMI>50.  They are shown in the chart below. Look at the distribution of outcomes:

– 25% of the time, the market gains in 6M are >20%!!!!
– Only 3 of 47 saw stocks lower in 6M.  The only scary exception is October 16, 1987 — one day before Black Monday.

This is pointing to ridiculously good risk/reward for stocks right now.

Think about that — 1 in 4 chance markets are up 20% of more in 6 months AND 94% probability stocks higher — this is a very good risk/reward.  At least consider establishing a derivatives position to capture this — some calls.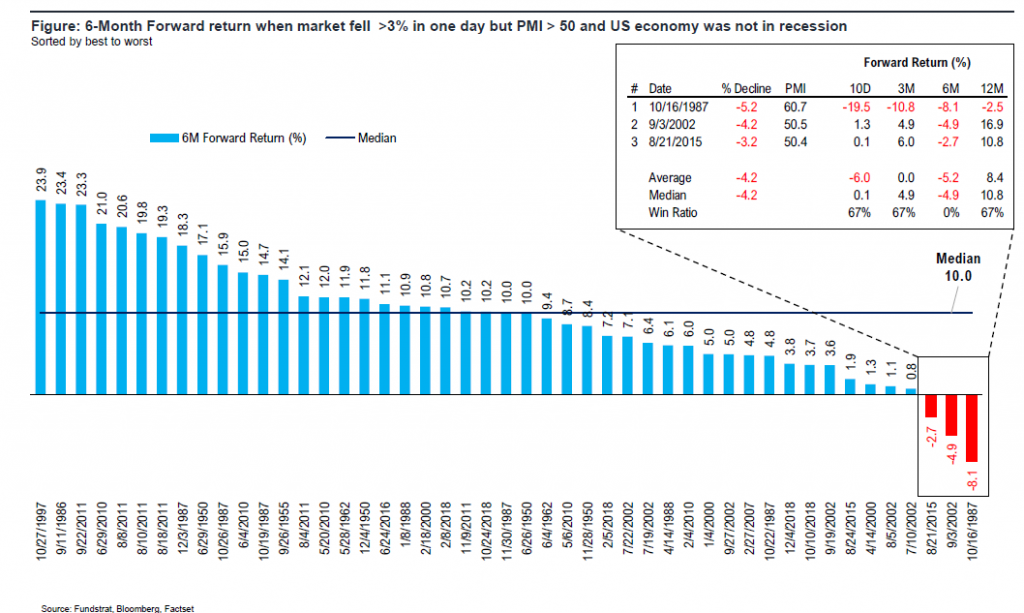 POINT 2: LAST 7 CORRECTIONS SAW THIS TRIFECTA AND NOW IT'S LINING UP AGAIN…
The last 3 corrections bottomed when RSI <33 and AAII bulls less bears -20 or worse and VIX >25.  This is happening this week.  Each of the last 7 times, this did not feel like a bottom — it never would because stocks discount bad news before bad news actually peaks.

– Again, we think this is showing the risk/reward has really turned positive.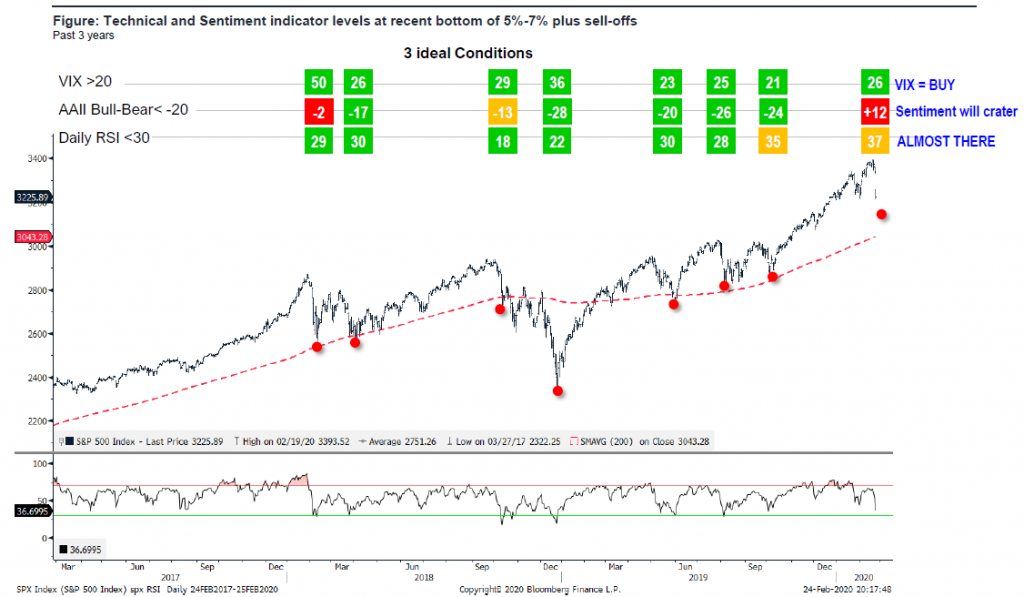 POINT 3: LONG-TERM YIELD CURVE (30Y-10Y), THE JEDI OF YIELD CURVES, HAS BEEN STEEPENING… NOT FLATTENING
The long-term yield curve spread (30Y-10Y) has been the best indicator of business cycle turns since 1950, with fewest false positives (type i error) and also least affected by central bank policy.

– it has steepened in the past month, even as COVID-19 concerns have spread.
– while the level of 30Y and 10Y are falling, the steepening shown suggests that we should be expecting a pretty big snapback of US economic growth once pandemic concerns have apexed. 

And such future weakening is not enough to tip the US into a recession.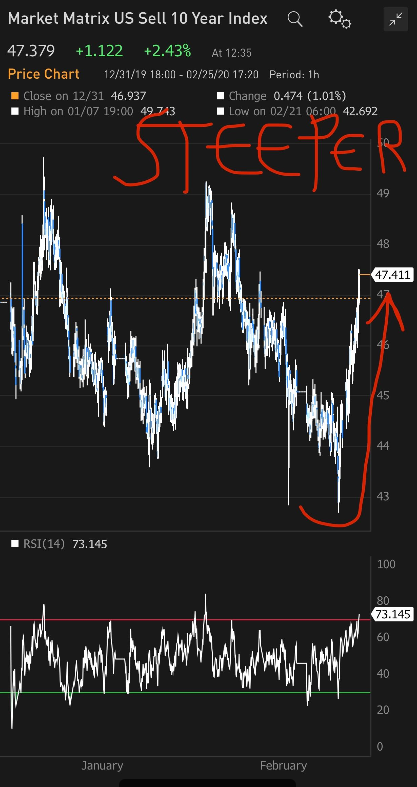 STRATEGY: 15 LOW VOLATILITY STOCKS TO OWN FOR NEXT 6M
Final thoughts –> media headlines are downright scary! But joe public is also scared…

There are few people left to "scare" — social media has been showing heightened anxiety.  I am not saying this means it can't get worse.  It certainly could.  And if confidence collapses, then we could have a recession.

What I am saying is that this is a decent time to take a "swing" at a likely bottom.

– We still low volatility stocks taking leadership here.  We have identified 15 low volatility stocks also ranked highly in our quant model. The tickers are:

LMT, JCI, CTXS, ADP, V, GL, AIV, AMT, CCI, SBAC, KO, JNJ, MRK, PPL and D.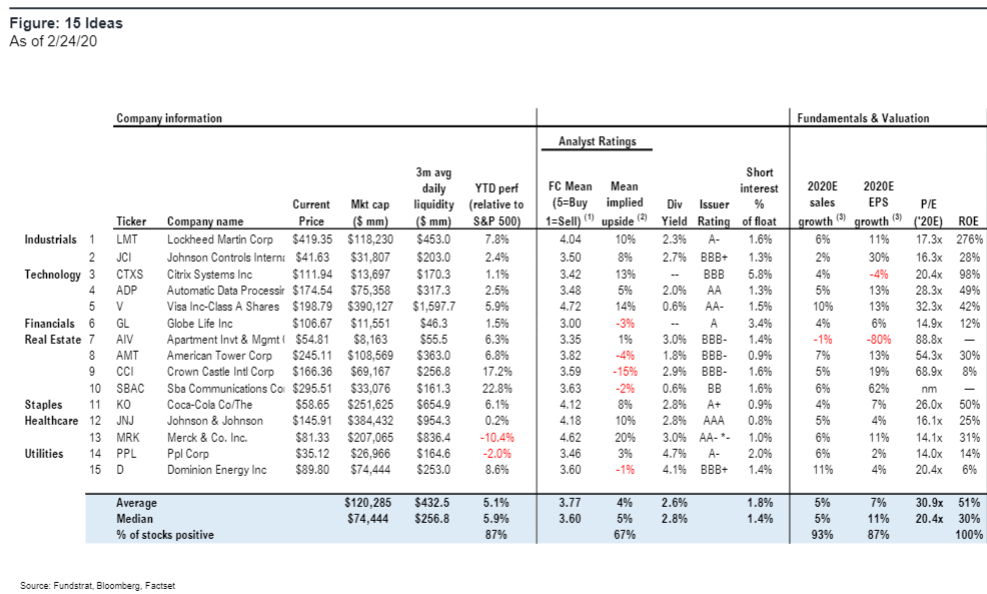 More from the author