This document is being provided publicly in the following form. Please subscribe to FSInsight.com for more.
AAPL pre-announcement implies overall $1.00 to $3.00 hit to S&P 500 1Q2020 EPS hit from Corona virus (first 'stab')
THIS MESSAGE IS SENT SOLELY TO CLIENTS OF FUNDSTRAT GLOBAL ADVISORS

Apple, in a press release yesterday, noted March guidance would change as (i) the supply of iPhone would be disrupted by manufacturing issues; (ii) demand in China hurt by retail store closures (owned and partner).  These issues will affect a broad swathe of S&P 500 companies and with this news, we can make a first 'stab' at EPS impact on S&P 500 1Q2020 profits.

– Sell-side analysts cut AAPL EPS by ~$0.15 this am (their best guess), which is ~$650 million on a $12.5 billion quarterly net income. Or 5%.

– We estimate that 50% of S&P 500 companies will face one or both of the issues cited by AAPL.

– Assuming a 5%, 10% or 15% impact on 1Q2020 EPS for those exposed (50%), this implies $1.00 to $3.00 of S&P 500 EPS impact.  S&P 500 quarterly net income is about $342 billion.

– We do not see this hit to 1Q 2020 perpetuating into the full-year EPS.  We estimate there will be a snap back of activity post-Corona, and hence, that $1.00 to $3.00 is added back to 2H2020 EPS.

– The fact that $8 billion to $25 billion is the potential 1Q2020 impact to S&P 500 profits in 1Q2020 also means fiscal stimulus odds are on the rise, from US, China and Europe.

– The hit to European and Asian companies should be far larger as % net income.

Bottom line: AAPL is giving us the first hints of what we can expect for 1Q2020 and it should be sloppy.  This is not a thesis killer for our 2020 equity outlook as we do not see the competitive position of AAPL or US-tech companies weakening.  These are issues facing all global companies. 

But in the short-term myopia of market consensus thinking, this downward cycle of 1Q2020 EPS estimates will be a short-term headwind. In other words, expect a lot of negative chatter in the next few weeks.
POINT 1: AAPL SELL-SIDE ANALYSTS CUTTING MARCH QUARTER EPS BY 5% OR $0.15
AAPL's filing did not disclose numerical impacts, so this is the sell-side analysts attempt to calibrate this impact. AAPL is still expected to earn $12.5 billion for 1Q2020.

– So while the $650 million looks meaningful, it is small relative to the base of earnings.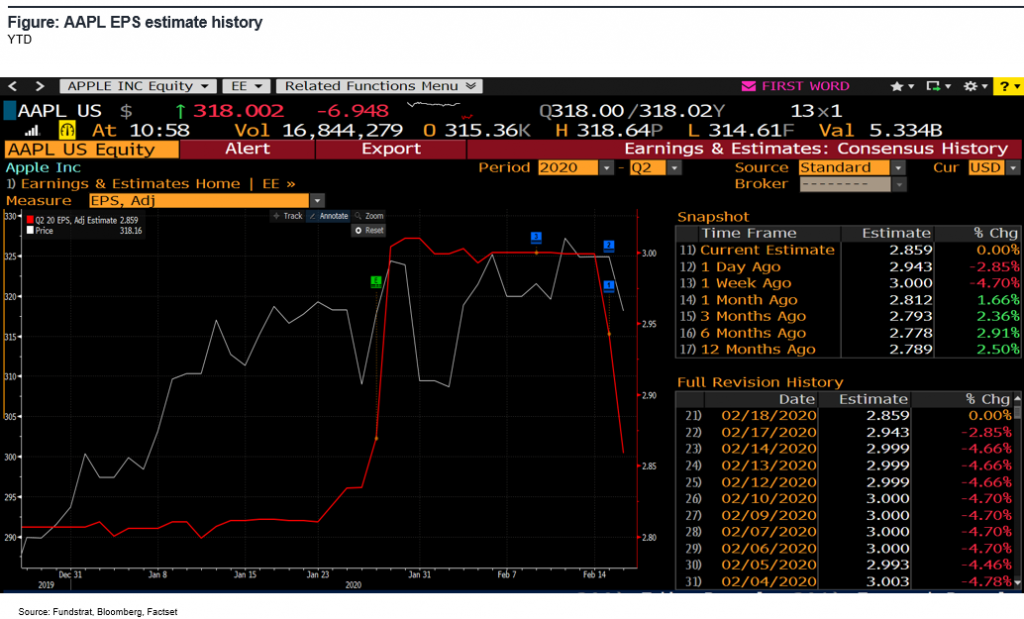 POINT 2: FIRST GUESSTIMATE IS $1.00 TO $3.00 FOR S&P 500 1Q2020 EPS FROM CORONA
The AAPL hit of $650 million is directly $0.08 hit to S&P 500 EPS (~8.7 billion S/O implied by divisor) but of course, many of the 500 constituents face similar impacts that Apple is seeing –> manufacturing interruptions + retail store impacts.

– We made a sensitivity table below, based on assuming 50% of 500 cos impacted (250) and a range of EPS hit for those of 5% to 15% (see below).

– This implies a 5% hit is $1.00 of EPS and $3.00 at 15%.

– As noted above, this is not a full-year impact as we expect a snapback in 2H2020 from this hit. Thus, we expect full-year S&P 500 EPS estimates to remain stable.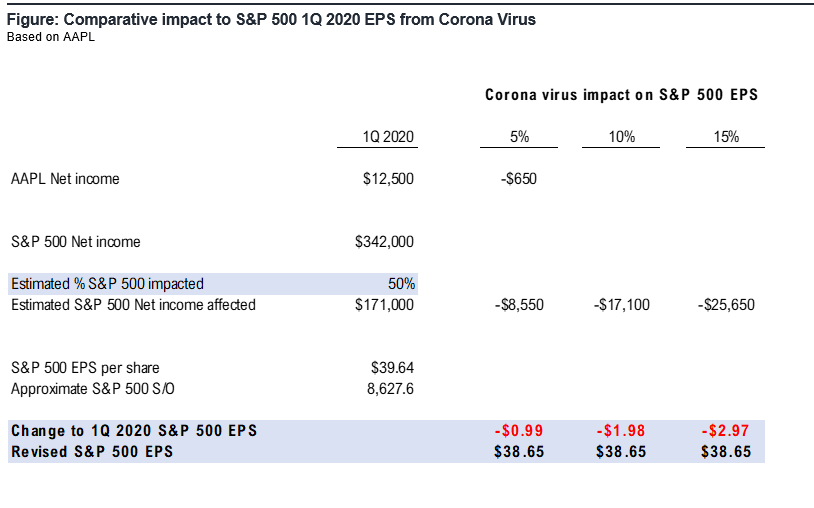 More from the author