This document is being provided publicly in the following form. Please subscribe to FSInsight.com for more.
10 US large-caps FOMO which are getting 'bid' because of global safety trade
Last week, we posited that the relentless bid for S&P 500 is in part to the "global safety trade" and as economic/ seismic ripple effects from Coronavirus grow, investors will see "growth stocks" and "large caps" and "relative group" — of which, US equities represent such a trifecta.  And YTD, Growth is beating the overall market by 320bp (R1K Growth vs R1K).

There are more data points supporting this view including large retail inflows into US domestic large-cap funds.  But take a look below, we compare the performance of Growth stocks YTD and their performance based on index inclusion:

– Stocks that are in both the Russell 1000 Growth and S&P 500 Growth are handily outperforming those that are not: 6.7% YTD vs 2.0%-4.3%

This is evidence, in our view, that Global safety trade is causing a surge in US growth stock performance, particularly those in both benchmarks.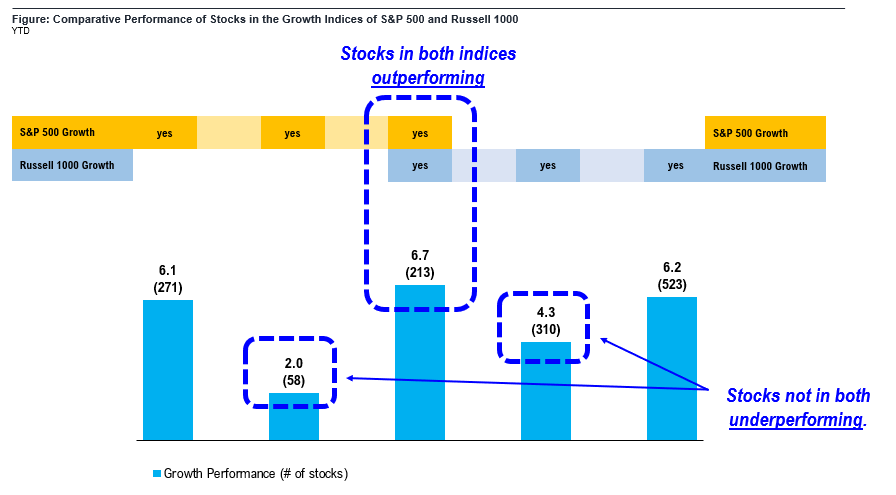 POINT 1: SOME GROWTH STOCKS ARE MASSIVELY CONTRIBUTING TO GROWTH INDEX GAINS…
Below are the top 25 contributors to Index Performance (Russell 1000 Growth and S&P 500 Growth) based on their ratio of "contribution to gains" vs "index weight"

Basically, any stock with this ratio >2.0 is carrying twice its weight in index performance.

– Topping the Russell 1000 Growth list is Tesla (12X) and close behind is UBER (6.6X) and SQ (5.9X).   
– In the S&P 500, it is NOW (4.9X) and MSFT (4.6X).

In other words, these are stocks that Growth Managers might have FOMO, if they are not OW or at least "equal weight" these names.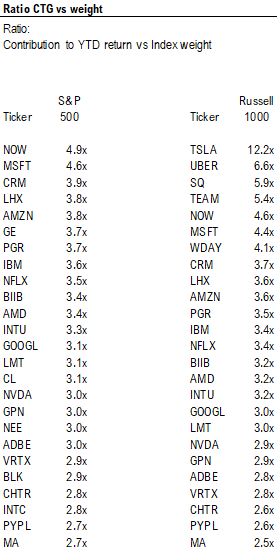 POINT 2: 10 FOMO NAMES THAT LIKELY HAVE AN UNDERLYING "BUY THE DIP" BID BY GROWTH MANAGERS
We created a list of stocks that we think could be Growth Manager FOMO names. These are stocks which:

– outsize performance YTD in both Russell 1000 Growth and/or S&P 500 Growth
– outperformed in past 6 months (adding to FOMO pressure) (since Aug 2019)
– but underperformed in the prior 6 months (Feb 2019 to Aug 2019)

The resulting list is 10 stocks shown below:
MSFT, AMZN, TSLA, CRM, UBER, NOW, SQ, TEAM, LHX, WDAY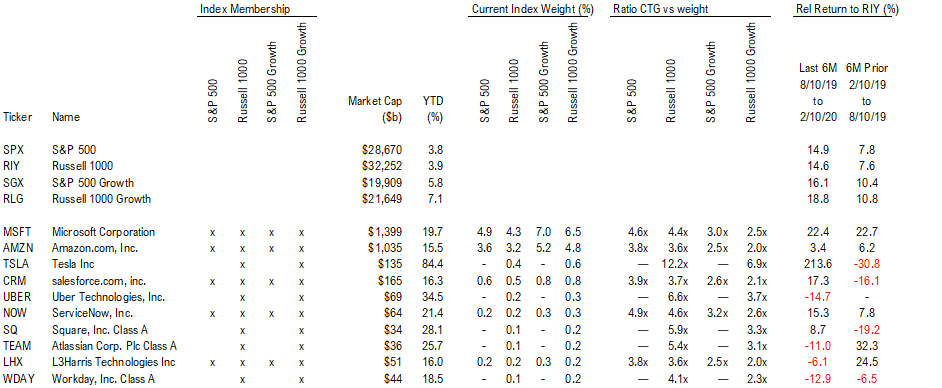 More from the author