This document is being provided publicly in the following form. Please subscribe to FSInsight.com for more.
Why US equities turned into "safety trade" -- aka Why we should not have freaked out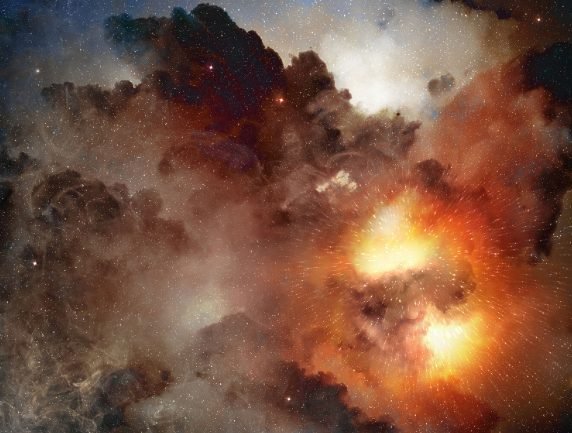 Stocks fell 4% in a few days ending last week and given the associated widening of HY spreads (leading indicator) and VIX term inversion (leading), prompted us to expect equities to fall to between 50D to 100D mavg, or 3,150.  Instead, we saw fierce 4-day rally recovering the entire loss.

A few things, in our view, contributed to this vertical rise:

– US growth outlook improved, while RoW weakened –> US ISM beat, but German factory data missed, and Asia visibily weakening.
– A risk-off and defensive repositioning means a style tilt to Growth –> US is the large-cap growth index (57% growth)
– Risk-off means seeking liquid markets –> US is a large-cap index and RoW is basically small and mid-cap

In other words, the US stock market  is the safety trade when the RoW looks dodgy.  This is what we missed.  So even if credit is stressed (high yield wide) and VIX shows fear (which it is), in context of problems outside US, drives an OW into US stocks.  

POINT 1: THERE IS NOT ENOUGH S&P 500 TO GO AROUND… $25T MARKET CAP VS $300T IN HOUSEHOLD LIQUID ASSETS
The S&P 500 is about $25T in market cap and there is $300T of global household liquid assets.  Not counting Central Banks and not counting Corporate Cash.

– There is just not enough S&P 500 to go around.  Thus, picture the panic as money leave riskier regions and looks for US.  This causes the S&P 500 to spike.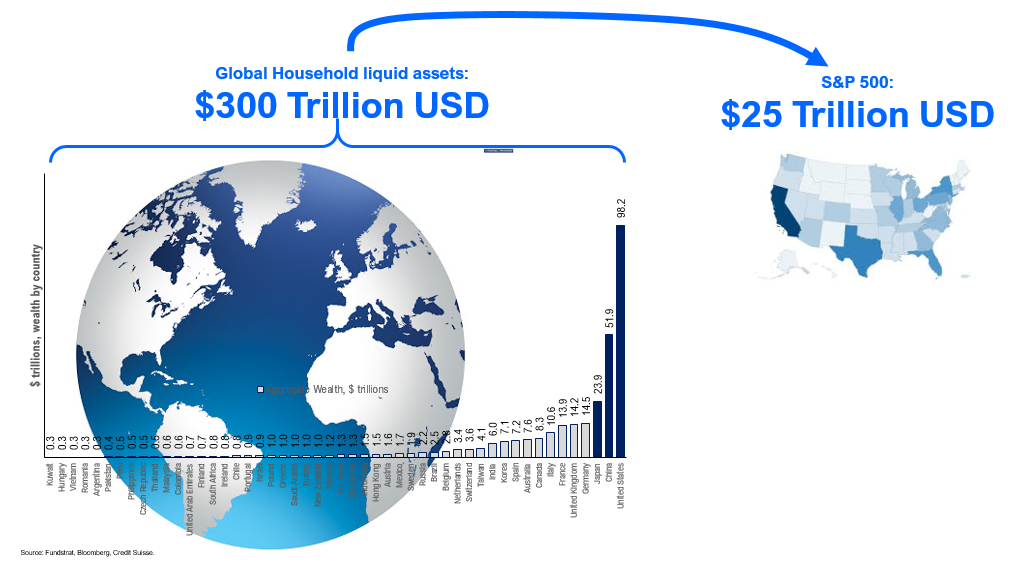 POINT 2: THIS IS EVIDENT IN THE OUTPERFORMANCE OF US EQUITIES VS REST OF WORLD, EVEN FX ADJUSTED
The best evidence of this is the outperformance of S&P 500 YTD compared to the rest of the World (see below).

– YTD, the place to be is in the US or Mexico (which is North America and tied to US outlook).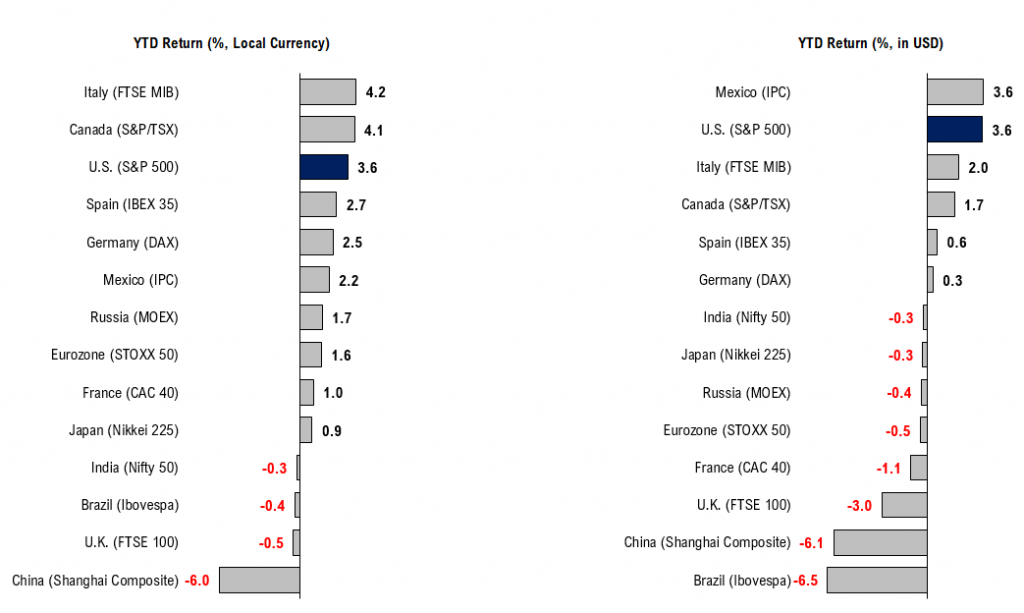 POINT 3: THERE IS CONCERN ABOUT WEAKER GROWTH, HENCE INVESTORS BUY GROWTH STOCKS
Whenever growth outlook weakens, investors naturally buy growth stocks.  This is in force below as MSCI Growth went parabolic vs MSCI Value since Coronavirus fears broke.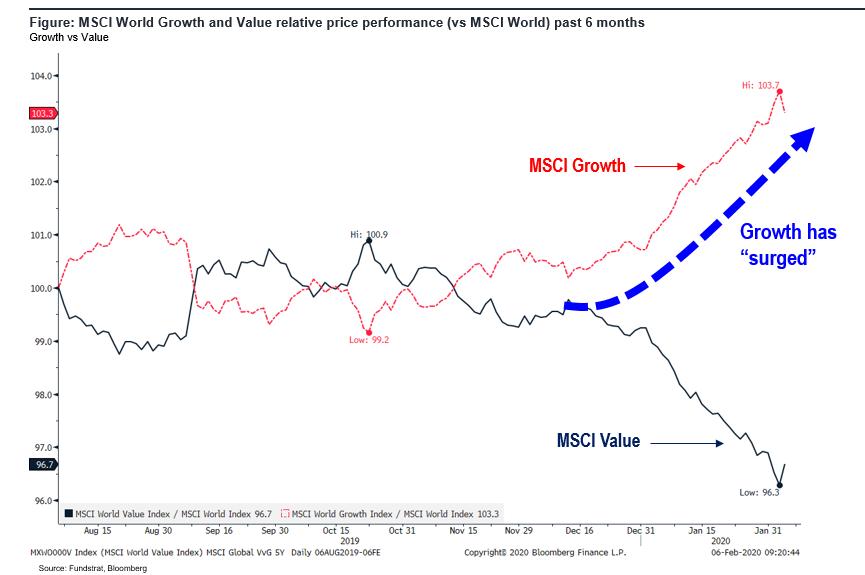 The S&P 500 is the largest and most liquid growth index and 57% of its weight is Growth.  Belgium has more Growth, but how is anyone going to get enough Belgium exposure at $300 billion of market cap vs $25T for S&P 500?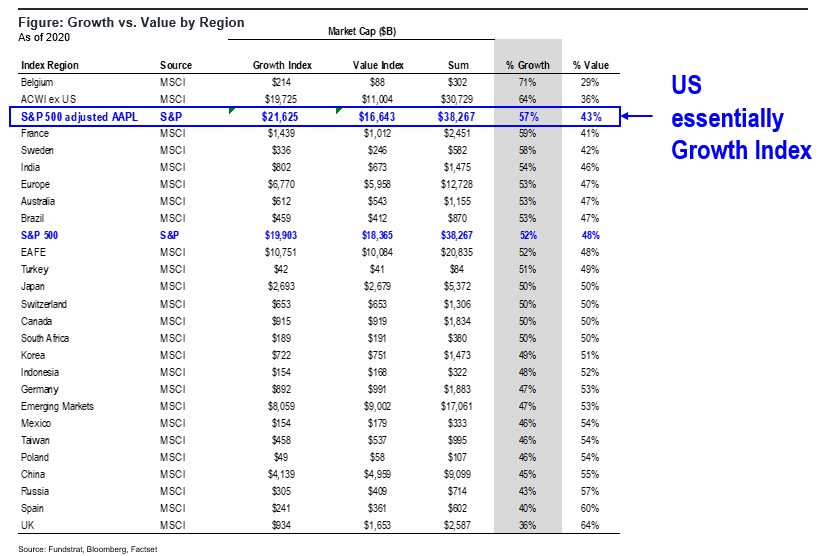 BOTTOM LINE: US OUTLOOK IS STRENGTHENING VS ROW, SO THE CORRECTION WE EXPECTED DID NOT HAPPEN
The ISM print, as we noted earlier this week, was good.  The improvement in overall PMI and the exports were the strongest in 7 and 9 years, respectively.  In other words, the US is starting to see strength in absolute basis.

Our theme for 2020 is equity risk premium in the US is falling and each 100bp decline is 2X in P/E or 10% upside.  Plus EPS is expect to grow >10%.  Thus, we see S&P 500 up 15%-20% in 2020. 

Not too shabby!!!! Stick with our Granny Shots.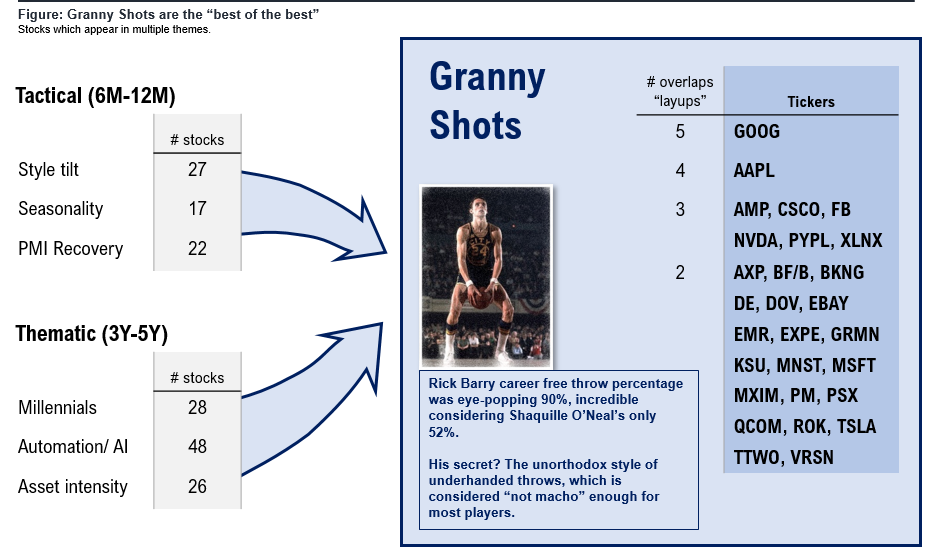 Granny Shots have seen consistent relative performance, in 2019 and even in the first two months of 2020 so far.  So, we love Rick Barry and his underhanded way of shooting free throws…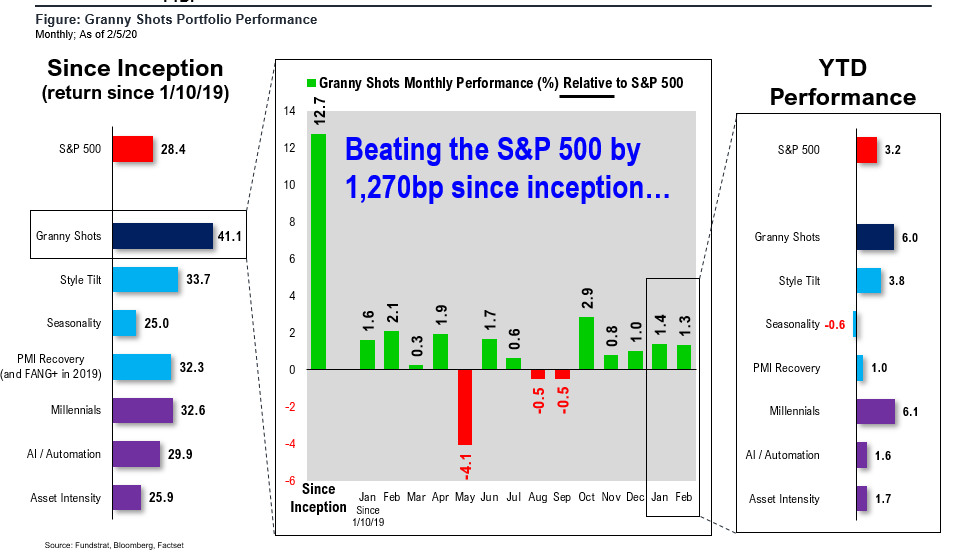 More from the author
Want to receive Regular Market Updates to your Inbox?