This document is being provided publicly in the following form. Please subscribe to FSInsight.com for more.
Tesla (TSLA) rally is more than short-covering, its Russell 1000 Growth manager FOMO
Tesla is surging 16% today bringing its total gain to 119% YTD, an astonishing gain. 

There are some people attributing this to short covering (some high profile HF were publicly short), which is no doubt a factor, but we think the bigger factor is there is Russell 1000 Growth manager FOMO.

Why?

POINT 1: TESLA IS 0.7% WEIGHT IN RUSSELL 1000 BUT ACCOUNTS FOR 15% OF YTD GAINS, 21X ITS WEIGHT…
See below, Tesla's gain YTD is accounting for 80bp or 15% of the gain for the Russell 1000 YTD, but Tesla is a 0.7% weight in the Russell 1000
– think about that — 21X is weight impact!!!

In other words, there FOMO of Russell 1000 Growth managers is likely contributing to this stupendous surge.  Last year, Tesla return was roughly in line with market and it was quite volatile, so many managers likely underweighted Tesla into the start of 2002.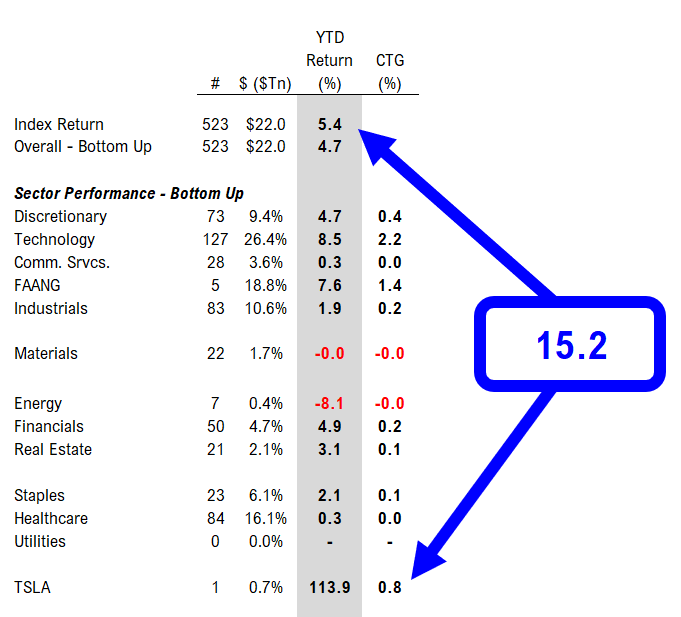 POINT 2: TESLA IS THE SINGLE LARGEST CONTRIBUTOR TO GROWTH IN RUSSELL 1000
As shown below, Tesla is the 3rd largest contributor of return in the Russell 1000 Index YTD.  Following Microsoft and Amazon.  But those are index heavyweights at 6.2% and 4.6%, respectively.

–  Tesla is adding as much to Russell 1000 YTD as Amazon, which has a market cap 5X vs Telsa.

Many of our clients are benchmarked to this index, and given Tesla's relatively high valuation, was less likely to be in a client's portfolio.  Thus, we see FOMO as contributing to the meteoric rise in Tesla.  FYI, Tesla is one of our Granny Shot stocks (24 names).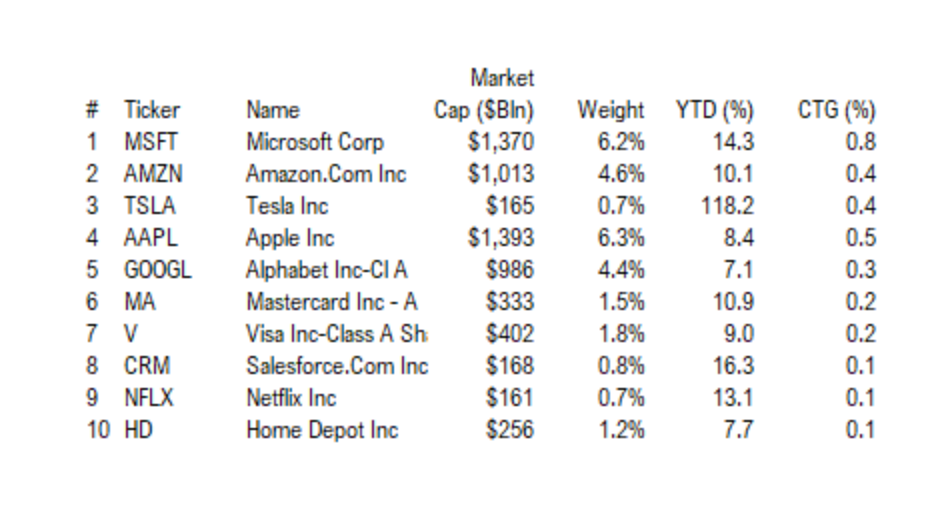 More from the author