This document is being provided publicly in the following form. Please subscribe to FSInsight.com for more.
We need to thank 'millennials' for impressive resilience of US economy, evidenced by Nov jobs report
Seasons greetings to our readers at FS Insight. We sincerely appreciate your continued support of our efforts and as an independent research provider. Thank you!!!!

Equity markets staged a remarkable recovery this week. After falling ~2% over 3 days, breaching some key technicals, a strong November jobs report helped the equity market is on track to finish positive for the week. This "hard bounce" is supported by more than a "performance YE chase" since one could have argued stocks had already seen their high for the year.

POINT 1: LARGE SIZE OF MILLENNIALS CAUSING ACCELERATION OF US GDP MULTIPLIER/GROWTHMore importantly, we believe investor framework about the US economy is changing. The US seems to be largely avoiding the sluggishness seen in Asia and Europe, stupefying many economists who expected the US to sink with the rest of the World.

We have asserted the US is increasingly 'de-coupling' from the rest of the World because of building demographic tailwinds. In short, we can thank Millennials, who are now entering their prime income years. (Or we can thank their parents for having lots of kids).

Take a look at the chart below. This is showing the 5-year change in people age 30-49 by region.

– The US is seeing an acceleration of this cohort and is set to reach 6% in a few years.
– People age 30-49 are the biggest contributors to economic growth, because of their consumption of debt leverage, and life cycle habits (babies, buy houses, etc) so they act as the real "economic multiplier"
– Chase credit card data also shows this is the only age group seeing consistent yoy credit card spending growth over time.

This is the age group that drives economic growth and as the chart below shows, this is the "sweet spot," This tailwind should continue for a few years.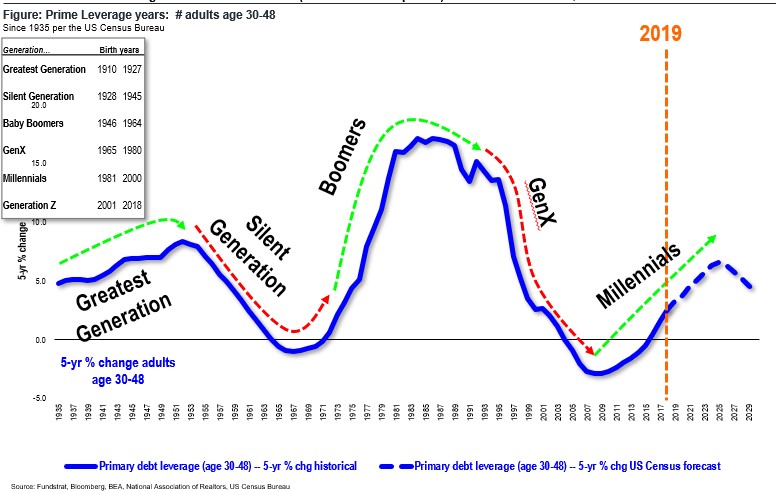 POINT 2: US MILLENNIALS ARE CAUSING US TO DE-COUPLE FROM REST OF WORLD
This tailwind from millennials seems to be primarily a US thing.

– US is seeing massive growth divergence of 30-49 vs Europe, China and Japan
– If this cohort is the "GDP multiplier," this suggests the tailwinds are building for US and becoming headwinds for RoW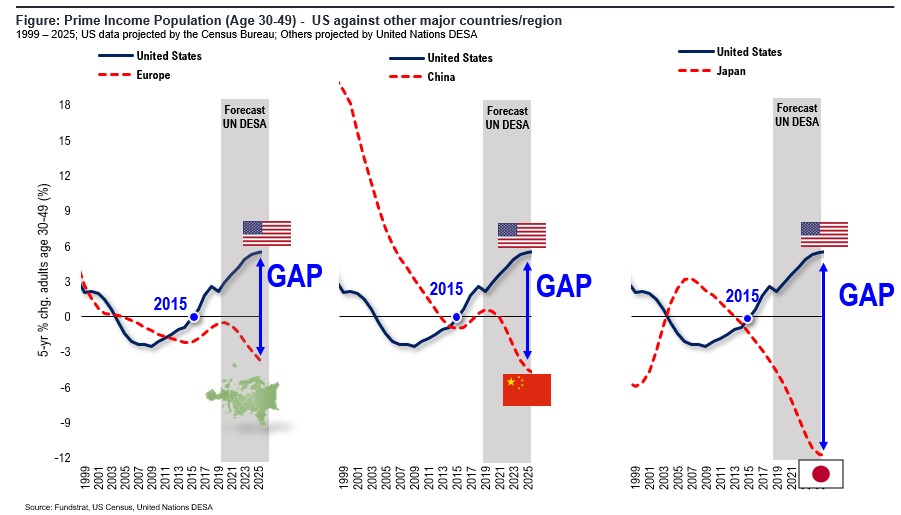 POINT 3: REST OF WORLD INCREASE TECHNOLOGY SPEND, JUICE PRODUCTIVITY TO OFFSET DEMOGRAPHIC HEADWIND
But the rest of World is not going to sit around, while US has the "population growth" advantage. Recall, there are two drivers of total GDP growth: workforce + productivity.

– if the workforce is a headwind, rest of world will try to juice productivity.
– what is productivity? Tech spend. Automation. Industrials. etc.

The world is going "asset heavy" and going to gorge on Technology. We think US techonology stocks are entering a period of seriously increased demand. And as we wrote in the past, will lead to Tech weight in S&P 500 approaching 50%.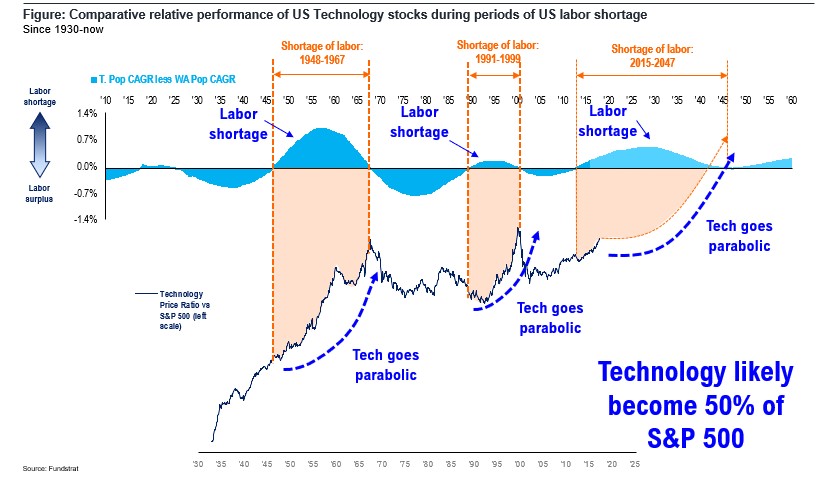 POINT 4: TECHNOLOGY + AUTOMATION POWERING NEXT LEG OF BULL MARKET
Bottom line, we see legs supporting continued strength in US economy and thus, US equities. We see stocks strong into YE and S&P 500 >3,200.

Have a great weekend!!!!!


More from the author