This document is being provided publicly in the following form. Please subscribe to FSInsight.com for more.
Raising S&P 500 YE Target to 3,185 (+60) due → Santa Claus rally + ISM inflection + positioning... don't sell this rally
Equity markets have decisively broken to the upside in the last few days and no doubt, leaves many wonder whether to "fade this" into year-end or view this as a sustained risk-on move. In our view, this advance, is supporting by rising visibility around the upturn in the global industrial cycle, thus, we are buying this rally, not de-risking.

POINT 1: US ISM Exports index moved back above 50 after tanking below 45 for 2 months… implies 18% EPS growth next yearThe ISM exports turned back above 50 in October. This is exports–> it strongly supports our view that the industrial recession is bottoming and now turning up. Since 1990, moves back above 50 lead to average EPS growth of 18%.

– this points to a re-acceleration cycle, not late-cycle move into a recession.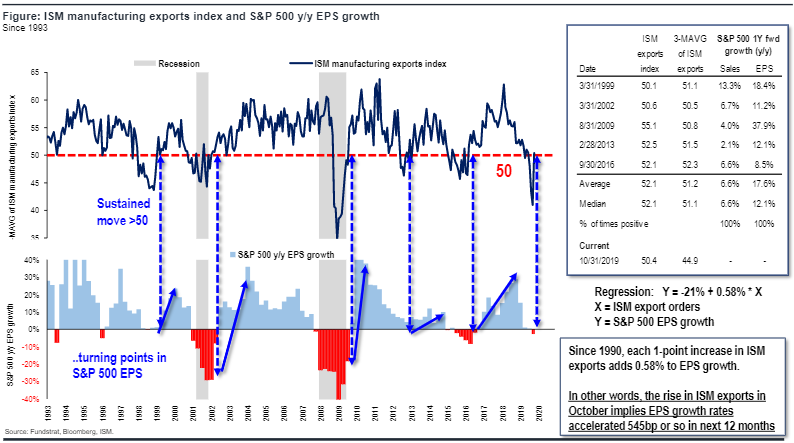 POINT 2: Stocks are just catching up to EPS –> 2-yr EPS CAGR is 11% ('17-'19) while S&P 500 CAGR only 7%
EPS growth last 2 years has outpaced market gains. Hence, we would argue that 2019 is merely catching up to the EPS move.

– Moreover, if EPS is accelerating next year to as much as 18% EPS growth, then stocks have similar upside, arguably.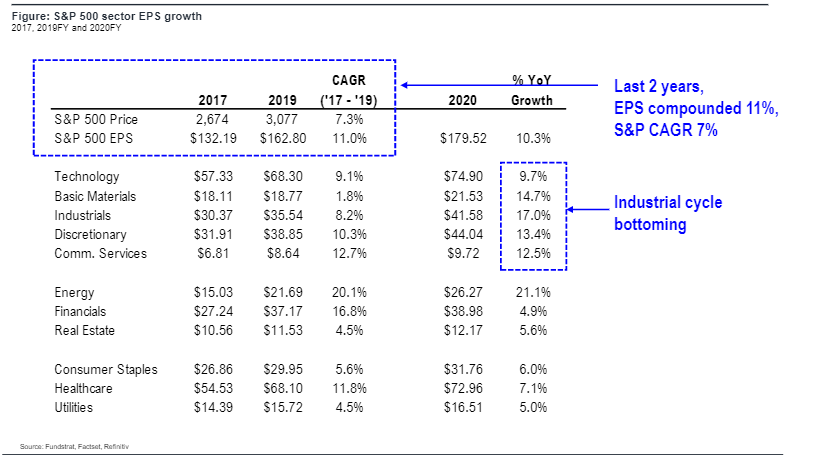 POINT 3: Santa claus rally. 10 of 10 times in last 20 years, if market is up YTD 9% thru 11/5, it has finished positive 11/15 to YE. Implies 3,200.
There is the Santa Claus rally. As shown below, when markets are up >9% thru 11/5, it has seen positive follow thru to YE, 10 of 10 times. Avg gain is 4%

– This means S&P 500 still has 100 points of upside. We would not fade this move.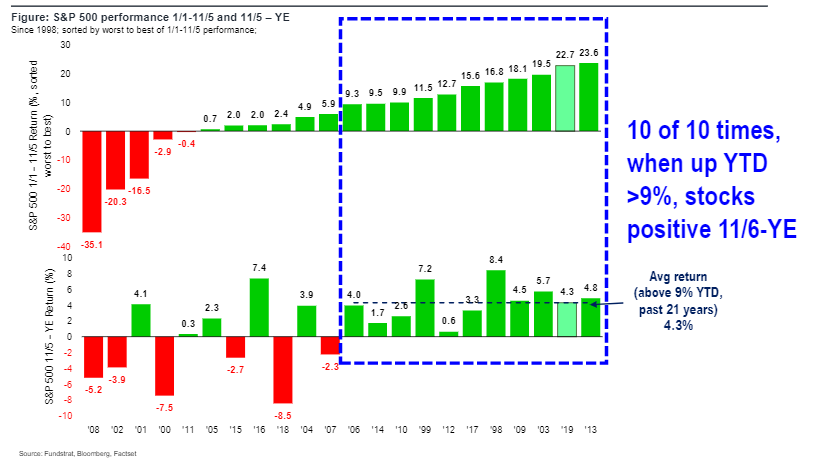 POINT 4: Raising S&P 500 Target to 3,185 (+60).We are raising YE target to 3,185. We think 2020 EPS can be above consensus ($182 vs $180) and P/E can expand 0.4X to 17.5X. This PE is a ~6% earnings yield and Investment grade bond yields are 3%. Stocks are cheap. And arguably EPS could be $188-$190 if industrial cycle accelerates as we expect.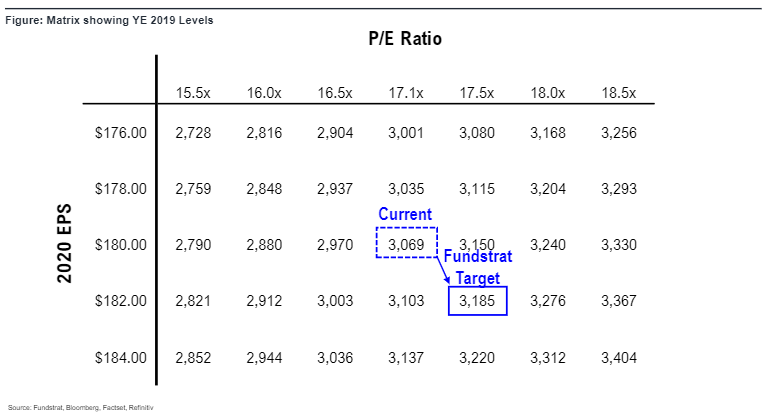 BOTTOM LINE: WE LIKE THESE STOCKS…We think Cyclicals are the place to be. We have a list of quality cyclicals to own into YE.

– Tickers: TPR, KSS, LEN, PHM, EXPE, LMT, CAT, CMI, EMR, ROK, IBM, INTC, MXIM, QCOM, QRVO, PLD, CBRE, CCI, IRM, SBAC, CTL, DISCK, T, ATVI and VIAB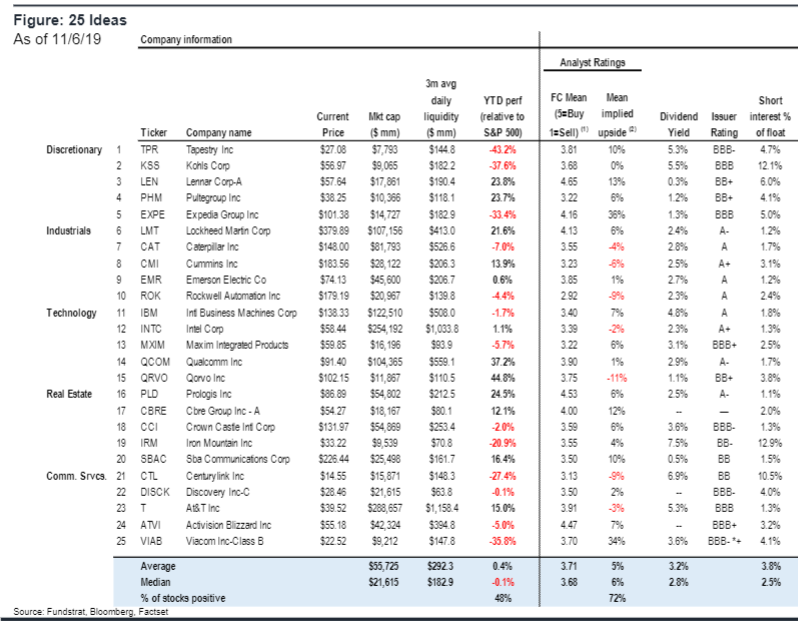 More from the author
Want to receive Regular Market Updates to your Inbox?