Financial Research
Fed Watch
Federal Reserve Chairman Jay Powell ironically probably felt a tinge of relief upon seeing the non-farm payrolls number. Why? Because it gives him cover to continue the course the Fed has been pursuing of near-zero rates and copious asset purchases Minneapolis Governor and PIMCO veteran Neel Kashkari commented in the wake of the jobs number that now was absolutely not the time to be raising rates. He also poignantly added that he has 'zero sympathy' for Wall Street critics of the Fed. We sincerely hope from the bottom of our hearts that he didn't hurt any of your feelings or dash your expectations for sympathy. This is all pretty well and good for the Fed given that by many other signs other than today's jobs report the Economy is well within the stride of re-opening. First quarter productivity rose 5.4% which blew away the expectations of only 4.3%. US junk-bond yields dropped to an all-time low of 3.88% on Monday. Spreads hit their tightest level in well over a decade at (+289 bps). While the Fed got an immediate reprieve because of the jobs report, inflation expectations and bond vigilantes are unlikely to make the Central Bank's life easy over the coming quarters as the economy continues to get red hot. The strong rally in credit continues across all buckets. Issuance is on track to be the busiest first half ever on record. Currently we are only $5 billion short of the $211 billion record and there's two full months to go. Bullish indicators are so plentiful many had speculated the Fed would be forced to begin talking about raising rates. Secretary Yellen even said something to the effect, which was probably unwelcome uptown at the Fed. The Fed's Financial Stability Report also showed an overwhelmingly strong picture in many respects. Banks remain very, very well capitalized. Leverage levels are very low among broker dealers. Household debt is manageable and loans are generally being paid back by households and businesses at historically high rates. The consumer balance sheet is very strong, buoyed by government stimulus. The Fed issued a report on Thursday that warned of the risks of rising asset prices, including the boom in stock prices. In a statement that seems rather obvious to us, the Central Bank stated that "Asset prices may be vulnerable to significant declines should risk appetite fall. The semi-annual Financial Stability Report shouldn't be taken with too much alarm. The job of the regulatory agencies that compile this report is to assess potential threats to financial stability from multiple vantage points but also well in advance. The report of course also cited COVID-19 and the potential for the spread of variants as a major potential risk. Another strong point in the Financial Stability Report noted that many efforts have been taken to prevent contagion like occurred from the ABS market in 2008 from repeating itself. The Fed specifically mentioned that assets which may be considered speculative, like cryptocurrency, do not pose a significant risk to financial stability, outside the individuals who choose to take risk investing in this area. Asset purchases continued at a pace of $40 billion a month for MBS and $80 billion a month for Treasuries. The benchmark yield on the 10 year is 1.579%.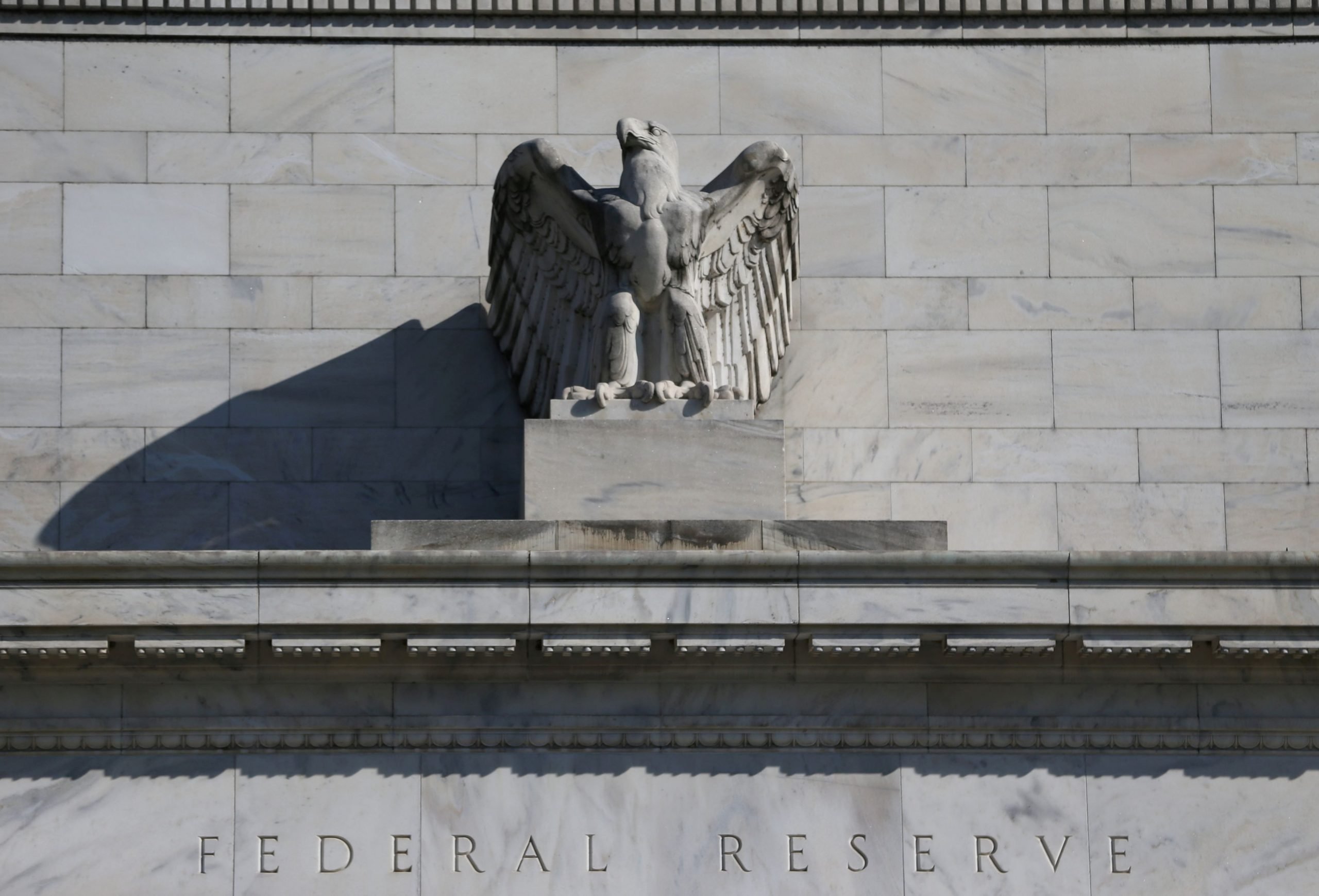 Market Expects Big Fed Rate Cut in Coming Days; New QE?
Call me chicken or ambition challenged, but I wouldn't want to be in the shoes of Federal Reserve chairman Jerome Powell right about now. Sure, he has free limousine rides everywhere, bodyguards and everyone hangs on his every word. But right now Powell and his crew are facing the worst stock market bear since the Great Recession. He cannot just stand there, even if it were to be the best to let the market sort itself out. He has to do something. Given we are only days away from the next Fed Open Market Committee (FOMC) meeting (March 17-18), I think we might not see Fed action until then—unless the market continues to tank before then. As bad as things look, the Fed might want the dust to settle before loosening shock and awe. The CME's Fed futures market, which has been historically a better predictor of Fed funds rate moves than the famous Fed "dot plots," is effectively saying there is a very strong probability that the Fed funds rate will drop from 1.00%-1.25% to 0.25%-0.75% and strong probability it will return to zero-0.25%. That appears to be taken as a given by investors. The wildcard is Quantitative Easing, or QE. The market is buzzing with speculation that some kind of new QE program will be announced. The previous QE saw the Fed expand its balance sheet (and the U.S. money supply) enormously through its purchase of U.S. Treasury bonds in order to bring more liquidity to markets. There is even talk that the Fed would buy equities, which might or might not help the stock market. Some investors could see that as a panic move by the Fed. In the meantime, the NY Fed surprised markets last week with an announcement Thursday that it would offer up to $1.5 trillion in short-term loans to big banks, in order to "address highly unusual disruptions in Treasury financing markets associated with the coronavirus outbreak." This represents an expansion of its previous program of supplying liquidity through repo operations and short-term loans in the money markets. The Wall Street Journal reported that its monthly economists' survey expects, on average, gross domestic product to contract to 0.1% in 2Q vs a previous projection of 1.9%. They see growth of 1.2%, down from 1.9%. Annual growth was 2.3% in 2019. Separately, European Central Bank President Christine Lagarde unveiled a modest stimulus package to shield the region's economy from the fast-spreading coronavirus, but investors weren't impressed. She suggested the bank might cut rates further if the economic outlook worsens, but analysts were unconvinced. The eurozone economy could shrink 1.2% in 2020, as workers stay home and households cut back on travel, entertainment and large purchases, according to research firm Capital Economics. The yield on the benchmark 10-year U.S. Treasury note settled at 0.78%, new historic lows, compared to 0.78% one week ago and 1.00% the previous week ago. Unless you think U.S. bond yields are going negative, that asset class looks vulnerable to a Fed trying very hard to lift rates.
Is It Time To Start Thinking About Thinking About Tapering? No!
Federal Reserve Chairman Jay Powell stuck to the script this week in the press conference following the FOMC statement release. He stuck to the script that has become all-too-familiar for most investors. Yes, the economy is improving, but no it is not enough for the Fed to begin to 'lift-off' or curtail asset purchases. Inflation is rising but it is transitory. The official line isn't changing despite the improving economic picture and ahead-of-schedule progress on vaccinations. The Chairman directly answered whether he was 'thinking about thinking' about raising rates or tapering and he directly said the answer is no. The bottom line is this, the Fed's goals are very ambitious, and the numbers simply aren't there yet. Powell wants to see again, "substantial" further progress. As of March, the economy still had significantly less jobs than before the pandemic, with 8.4 million less. Luckily, Powell does not see major scarring in the labor market despite the fact that the Chairman thinks it will be a different economy. He mentioned that the pandemic could lead to some disruption as companies turn to automation and more efficient processes. He said those at the lower end of the economic spectrum and minorities had been the worst affected by labor dislocations. Powell was also asked about the dramatic rise in housing prices and whether there were localized bubbles forming like those reminiscent to the runup with to the Global Financial Crisis. The Chairman noted that the Federal Reserve monitors housing closely and thinks the pricing is a supply/demand issue rather than an issue of lenders seeking borrowers with lower and lower credit. Most of the purchases have been at the hands of wealthy borrowers with strong credit. The problem he sees is that prices may be moving so high to make first-time home buyers reticent to make that first leap into homeownership. The Chairman noted that the worst affected sectors are a long-way from full recovery but that significant progress has begun in the recovery. He stressed again that the Fed will not view transitory inflation as a justification for altering monetary policy or asset purchases. The labor market is not tight enough for wages to have risen as much as the Fed would like indicating that momentum is still rising in certain areas of the economy. The Fed will also be closely monitoring labor force participation as the recovery goes forward. He thinks the labor market slack may tighten and move toward equilibrium as unemployment insurance and other government assistance moves into the rearview mirror. A particularly interesting exchange came when Powell was asked about the criticism of Larry Summers (the Fed Chairman who never was) that the Fed is asleep at the wheel on inflation. Powell started by saying that the main objectives will always be to uphold the dual mandate. He stressed that letting inflation run higher actually enables them to better do that since the average goal for price stability is 2%. Powell seemed energized and more than willing to fend off Summer's peripheral, and some might say self-serving sniping. "We're all very familiar with the history of inflation in the 1960s and 1970s, of course," said Powell before pointing our why today's situation is different. Asset purchases continued at a pace of $40 billion a month for MBS and $80 billion a month for Treasuries. The benchmark yield on the 10 year is 1.56%.
Powell Says Fed Will Not Allow Large Overshoot on Inflation
Federal Reserve Chairman Jay Powell answered a letter from Senator Rick Scott (R-FL) outlining concerns about a potentially significant rise in inflation. His response gave some more contours to the Fed's intentions around it's mysterious Adjustable Inflation Target (AIT) framework. The Fed chairman usually avoids tying himself into any obligatory statements and tends to shy away from hard numbers but did seem to indicate some of the more extreme speculations about what the Fed could do around inflation in the media are hyperbolic. Powell by and large stuck closely to the script he has recited so well for months. However, he elaborated that he didn't see a future where inflation substantially exceeds 2% for a prolonged period. He underscored that regardless of the new framework the Fed will always pursue its dual mandate. Whoever leaked the Biden capital gains plan this week may have done Jay Powell a favor by proxy. Going into the upcoming Fed meeting, 1-year inflation expectations rose to 3.7%, which was the highest level in 9 years. This was up pretty significantly from 3.1% the prior month. Even the whiff of tax increases should help to assuage raising inflation expectations and make a 'squeeze' less likely. The real takeaway is that Powell moderated the comments of some of the ultra-dovish Fed members that have been raising the specter of allowing 3% inflation. This is accompanied by a flurry of other bullish activity across the economy. In the past week, high yield credit (U.S. junk bonds) dipped below 4.00% and April is on track to potentially be the busiest month since records were being kept for the high-yield market. This stands in stark contrast to the behavior of some of the Epicenter stocks in the past month. The two appear to have decoupled somewhat. Despite recent historic levels of spending the low rates have actually brought collective interest payments on the national debt down to $345 billion which is approximately 1.6% of GDP. At current rates of spending, it is on track to go down toward 1% over the next 3 years to its lowest level since the 1960s. CBO projects that interest as a % of GDP will rise significantly from 2025-2031 though, more than doubling from an estimated 1.1% to an estimated 2.5% in a decade. The Fed's Vice Chair for Supervision, Richard Clarida seemed to confirm Powell's diplomatic tone in a speech on April 14th. Clarida similarly tried to assuage some of the more radical interpretations of the Fed's new framework. He stressed that the Fed's actions will be tied to a goals and outcomes based approach. Actual progress will dictate what subsequent action is taken. "I think our new flexible average inflation-targeting framework as a combination of temporary price level targeting at the effective lower bound, to which temporary price level targeting reverts once the conditions to commence policy normalization articulated in our most recent FOMC statement have been met. In this sense, our framework indeed represents an evolution, not a revolution, from the flexible inflation targeting framework in place since 2012"- Vice Chair Richard Clarida The elaboration by both Powell and Clarida on the framework likely is aimed at criticism that the Federal Reserve has been too opaque with markets about its' intended course with regards to inflation and just how exactly this framework will interact with the dual mandate. Asset purchases continued at a pace of $40 billion a month for MBS and $80 billion a month for Treasuries. The benchmark yield on the 10 year is 1.56%.
Powell Opines On Asset Purchases, Waller Says Economy 'Ready To Rip'
Federal Reserve Chairman Jay Powell gave markets an important morsel this week when he opined on the timing of when the Fed would taper asset purchases in relation to when it would raise rates. He clarified that the world's most important central bank will slow the pace of its bond purchase "well-before" it decided to raise rates. He spoke at the Economic Club of Washington DC. The comments came only a day after the Labor Department came out with its inflation numbers. The CPI saw the biggest one-month jump since 2012. Worry not say most Fed officials. This inflation will be transitory and remember, the secular deflationary forces we have been facing for the last decade seem unlikely to 'turn on a dime'. The Fed released the Beige Book which is an informative economic survey across the different regions covered by the respective Regional Banks. Businesses reported one of the main sources of costs was supply-chain disruptions. Obtaining shipments from overseas in a timely and cost-effective manner is becoming problematic. The report found the economic activity accelerated at a moderate pace in line with successful vaccination efforts and higher than expected government stimulus hit consumer wallets. Those who analyze Fed words very closely noted that in the Beige Book release this week they used the word 'shortage' or 'shortages' a record high of 37 times. The last record was in March and mentioned the term six less times than the recent release. The Dallas, Philadelphia and San Francisco banks all noted that the week-long traffic jam at the Suez Canal likely contributed in the short-term. Semi-conductor shortages were mentioned specifically a high number of times. Despite this, many positives were seen across districts including robust manufacturing growth. Christopher Waller gave one of his first publicized interviews since ascending from Jeremy Bullard's head of Research at the St. Louis Federal Reserve. As we predicted upon his nomination, he is in the ultra-dovish camp and in fact was apparently integral in the research efforts behind the eventual adoption of the Adjusted Inflation Target framework. If someone is looking for a Fed member to blink, don't look at him. Mr. Waller got interviewed by CNBC's Steve Liesman. He said the economy is "ready to rip." He mentioned he expected the highest growth rates in decades, inflation rates at 2 and a half percent and for employment to steadily get better. You might expect him to then talk about restraint or tightening of Fed policy, however, he didn't take this tone at all. He said the Fed was going to let the economy go and not spoil the fun, in line with the goals of AIT. He also flat out rejected the SEP, or the dot plot, in the interview with Liesman. Powell has also cast doubt on the dot plot in some recent comments. This fixture of Fed watching has been a pretty important tool over the years to evaluate future Fed actions. Powell also opined on cryptocurrency and said the following, "What people call cryptocurrencies, they're really vehicles for speculation. No one is using them for payments, for example, like the dollar." He further elaborated, that in his opinion, he viewed cryptocurrency as more similar to a commodity, like gold. Powell has said a 'digital dollar' is a very high priority for the leadership of the Federal Reserve. Asset purchases continued at a pace of $40 billion a month for MBS and $80 billion a month for Treasuries. The benchmark yield on the 10 year is 1.66%.
Powell Sees Recovery Ahead of Schedule, Bank Dividends to be Restored In June
When Fed Minutes are released and the market doesn't react that's generally a good thing. Despite the mini-tantrums of the first quarter over rates, the news from the Fed this week appeared to help rates settle down, which may have helped the mega-cap technology names regain some of their wings. The Federal Reserve released the meeting minutes from their recent mid-March meeting on April 7th. The Fed changed its tune very little, despite recent expression of some optimism in other forums. For instance, it continued to stress that it will both keep interest rates near zero and continue the current rate of asset purchases until "substantial further progress" has been made toward the targeted levels for employment and inflation. Importantly, the Fed will also view temporary price increases associated with the unprecedented and widescale opening of the economy as temporary. We may have forgotten with everything else going on that the Fed is still providing unprecedented policy support. They are saying they will not try to slow down the economic boom that is coming until maximum employment and inflation targets have been reached. It becomes clearer and clearer with each official Fed communication that a key feature of the new Adjustable Inflation Target (AIT) framework is the willingness to be behind inflation rather than ahead of it. This is a significant departure from past Fed behavior and it essentially means that the neighbors are all on board, and loud music and many punch bowls will be permitted, from a monetary perspective, until the wee hours of the morning. This is indeed unprecedented and surely is bullish, at least in the short and medium term. According to the minutes, the size of The American Rescue Plan was larger than expected. In their January projection they had thought a smaller package more likely. This has resulted in a more positive economic outlook. In fact, the Fed is projecting the strongest growth in nearly half a century. Nonetheless, the independent agency is communicating cautiously and steadily to ensure the substantial progress made since last March is not forfeit. Federal Reserve Chairman Jay Powell spoke on Thursday during meetings at the International Monetary Fund and the World Bank. Although the Chairman mentioned the brighter outlook on the horizon for the US economy he cautioned listeners that the post-COVID-19 economy would be different and that he would be focused on ensuring the millions of people who lost their job as a result of the pandemic will be able to find work. He said he thinks that the America is "on track to allow a full reopening of the economy fairly soon." The New York Fed is looking at broadening the number of firms it does business with to implement monetary policy. Lorie Logan, who manages, the Open Market Account holdings of securities and cash (worth $7.7 trillion) said on Thursday that the bank is looking into doing business with a broader range of firms than it has traditionally. Her focus is on the overnight repo rate which sets the low-end in transactions with qualifying firms. By expanding the amount of counterparties able to participate, Ms. Logan hopes a "more vibrant and effective marketplace' could strengthen the effectiveness of monetary policy. Asset purchases continued at a pace of $40 billion a month for MBS and $80 billion a month for Treasuries. The benchmark yield on the 10 year is 1.66%.
Powell Sees Recovery Ahead of Schedule, Bank Dividends to be Restored In June
Federal Reserve Chairman Jay Powell has begun the slow process of changing communication from the very necessary 'man your battle-stations' mentality to one more aligned with what is looking like will be a very robust post-pandemic recovery. He acknowledged that the economy is recovering more quickly than the Federal Reserve initially expected largely because of the impressive pace of vaccinations and the massive amounts of fiscal stimulus. He also acknowledged that the strength will eventually create a situation where the Fed can pare back the extensive and unprecedented support it has given to the economy. In a live interview with NPR's morning edition Powell stressed that only after substantial further progress will he be willing to begin tapering asset purchases. The lessons of 2018 are still fresh on his mind, so investors should not read this as an impending end to liquidity. It decidedly is not. He defended the unprecedented actions of the Fed and said they likely staved off far worse outcomes. Powell likened the crisis response to the emergency evacuation of the British Expeditionary Force from Dunkirk. This takes us to our 'post-war' metaphor for what the economy will do when re-opening hits it's stride. So does the Fed apparently since it's new economic projections are for the highest rate of economic growth in nearly half a century at 6.5% "In a nutshell, it's a combination of better developments on Covid, particularly the vaccines, and also economic support from Congress," said Chairman Powell before elaborating that these developments will enable us to open the economy sooner. Powell did mention that current rates of spending, although necessary, are certainly unsustainable. While the current low rates are preventing government debt from crowding out private sector spending, this relationship will not be in place forever. Last summer, in the Fed's supervisory capacity it had placed limits on dividends and buybacks for banks so that they could conserve capital during the unprecedented lockdowns and cessation in commerce caused by COVID-19. In a further sign that the Fed sees economic conditions improving it has lifted it's temporary limits on dividend payments and share buybacks for most banks effective on June 30, 2021. The recent stress tests showed strength at banks supervised by the Fed and this action show that banks continue to be a source of a strength. Loan loss provisions at banks also show that their assessment of risk is that the worst from the pandemic and associated economic fallout is behind us. Asset purchases continued at a pace of $40 billion a month for MBS and $80 billion a month for Treasuries. The benchmark yield on the 10 year is 1.67% up from 1.73% last week.