This document is being provided publicly in the following form. Please subscribe to FSInsight.com for more.
Benchmark Crypto Indices Weekly Performance Review — March 16
Over the past 7 days, the FS CryptoFX Agg Index decreased by 33.7%, compared with a 8.8% decrease for the S&P 500. The best performing size-based index was FS CryptoFX 250, which was down 32.8%. The worst performing size-based index was FS CryptoFX 40, which was down 35.0%.The best performing sector index was FS CryptoFX Stable Coin, which was down 0.6%. The worst performing sector index was FS CryptoFX Platform, which was down 36.3%.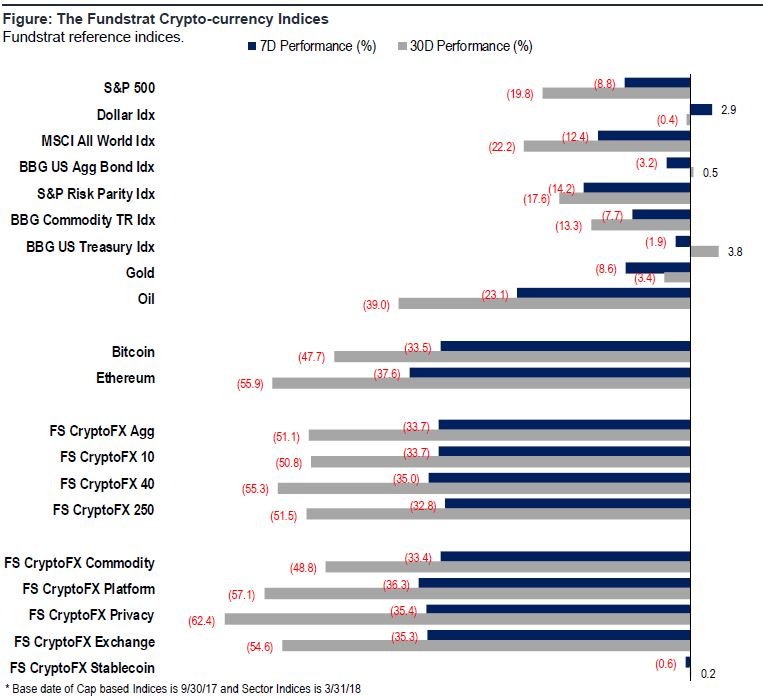 Turmoil in ETH markets causes first MKR auction
Ethereum had a tough week. The 2nd largest cryptocurrency plummeted about 39% over the past 7 days. In isolation this is bad: anyone holding ETH has felt the pain that almost all investors are feeling during this uncertain time. In the context of an emerging DeFi market structure, it is causing other challenges.

As we've written in the past, decentralized finance or DeFi has been on one of the fastest growing segments of the digital asset industry. Lending has proven to be its first killer app and ETH is playing a crucial role as the de-facto asset being employed. ETH is commonly deposited into smart contracts to generate and collateralize debt positions which are typically denominated in a stablecoins.

But what happens when the collateral (ETH) backing a stablecoin denominated loan declines by about 40% in the span of one week? In short, positions that were once fully collateralized are no longer covered. To make up for this shortfall, most DeFi smart contracts trigger a collateral liquidation process. Given the collateralization buffers built into the protocol, this process is usually sufficient to restore the protocol back into balance. However given increased gas prices on Ethereum caused by its persistent price decline, dysfunction in the market resulted in persistent under collateralization on MakerDAO's platform this past week.

To recapitalize the market, the final MKR auction backstop was enacted for the first time in the protocol's history last week. By initiating the auction process, the protocol is seeking to mint new MKR tokens in order to close out the $4MM shortfall ultimately to the detriment of MKR holders whose holdings will be diluted by the new issuance.

Overall, we see two main takeaways from the MKR auction announcement: Firstly, ETH volatility has had a significant negative impact on the functioning of DeFI markets. Secondly, blockchain governance continues to mature. With the implementation of the MKR auction (which is slated for March 19th) and proposed adjustments to various lending rates, the Maker Community is making efforts to stabilize the network.
More from the author
Want to receive Regular Market Updates to your Inbox?