Digital Assets Weekly: March 20th, 2020
Summary
Market Analysis:
Crypto markets rallied off last week's lows.
Portfolio Strategy:
The risk / return profile looks attractive at these levels.
Winners & Losers
Winner: The Steem community who is taking a stand against Tron founder Justin Sun.
Loser: MakerDAO token holders who are getting diluted due to poor performing loans.
Weekly Rant:
BitMex going down for maintenance makes me cringe, but it may have been for the better.
Financing Activity:
Bakkt, Argent, Phemex, and GrainChain are among projects that raised funding this week.
Recent Research:
Market Analysis
Bitcoin's price has sold off significantly over the past few weeks and has now started to bounce off the bottom we saw last Thursday. The chart below from Rob Sluymer, Fundstrat's Chief Technical Strategist gives you a sense of where we've been.
Bitcoin has rallied off the prior week's lows and finished this week (3/12/20 to 3/19/20) up 25%, partially recovering earlier month losses, and bringing its YTD return to -13%. Traditional safe-haven assets, the dollar and US treasuries, are now the best performing this year, while Bitcoin sits in 5th place behind gold.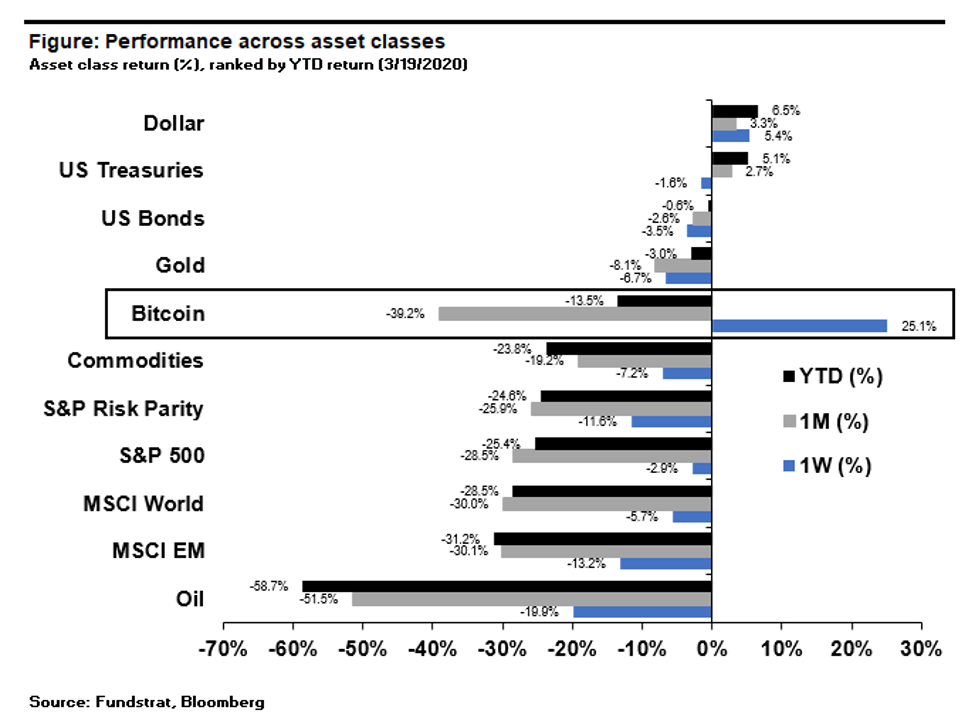 Bitcoin, the largest crypto asset brought most others in to the green with it on the week. The bulk of this week's gains came yesterday as the markets rallied heavily offsetting losses from late last week and early this week.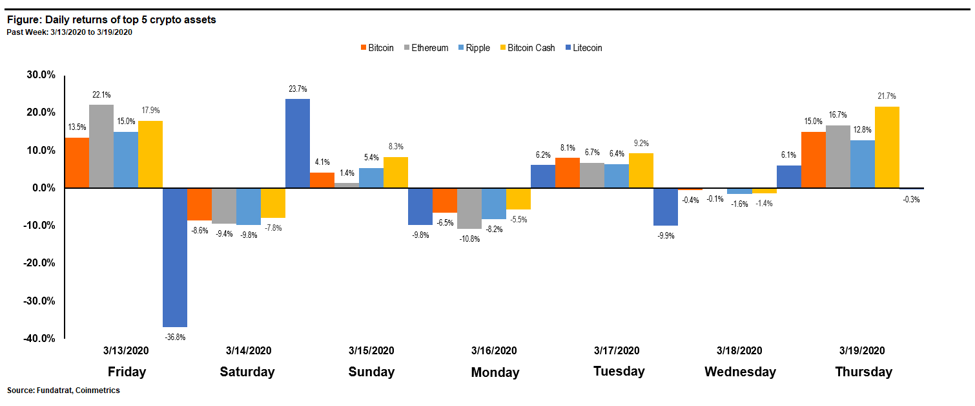 Portfolio Strategy
In last week's note, I laid out the following four scenarios over the next 12-18 months:
Bear (5% probability): We're eaded for a full-on protracted crypto bear market where prices have another 50% left to fall and we head towards all time low valuations in the 2x range putting BTC around $2k.
Stagnant (15% probability): We sit here around $5k for a drawn-out period while the broader market works it's self out and any capital put to work is dead money.
Recovery (70% probability): We turn around, slowly grinding our way back upwards over the course of the year and get some multiple expansion back to the historical average of 9.5x taking us above $9k.
Bubble (10% probability): We get a quick recovery, perhaps even a v-bottom (may by happening already), that bounces us back into another bubble with frothy multiples similar to prior cycle highs that imply prices around $50k-70k.
Its fine if you want to call it good old fashion luck, but whatever the reason, my 70% probability recovery scenario seems to be playing out thus far. The market has since rallied by over 20% from where it was then around $5,400 to around $6,600 right now.
-Was that the bottom or a temporary bounce?
No one knows for sure, there are a few reasons that make me lean towards the former, but if we do see some cooling off, I'd still use it opportunistically. Depending on your time horizon, the better question may be:
What does history tell us about the risk / reward at these levels?
The chart above shows Bitcoin's historical average forward returns 1 month, 3 months, 6 months and 1 year out based on its P/CMR valuation.
The takeaway: Bitcoin is 1) a good store of value, and 2) a better investment, if you buy it at a relatively cheap price – like almost all assets. If you opt for the alternative of high valuations, as shown on the right side of the chart (don't recommend it), history has not been so kind.
Last week Bitcoin bottomed around $3,900 at a 4.1x P/CMR, by the time my note was out, it had quickly rebounded to $5,400 at 5.6x, and at today's price around $6,400 it sits at 6.5x.
Generally, I'd prefer to buy assets cheap as possible, but the silver lining is – data tells me that potential forward-looking returns at these levels are still very attractive. That's if history is any indication and I think it still is. I'll discuss why in later weeks. This week's valuation comp table is below.

Valuations for most leading cryptocurrencies still look cheap across the board today.
Notably, this contrasts with my view two and three weeks ago where I stated that prices weren't expensive but weren't cheap either – but sits in line with my note from last week urging investors to take advantage of these more attractive levels.
It's still firmly my view that crypto markets are in the 2nd or 3rd innings of a prolonged recovery following the market sell off we saw in December 2019. That does not mean you won't see price swings along the way, but over the next 12-18 months, there are several reasons to be bullish.
As the market trend turns upwards, now is the time where the market will start to pick winners and losers and I expect investors will be able to find out-performance in assets beyond Bitcoin. I'd stay weighted towards large-to-mid-cap quality crypto assets. Those have historically shown better out-performance in upward trends. I'd still stay away from the smaller cap less-liquid names for now until the recovery is on a stronger footing. They offer potential for greater returns but come with much greater risk as well, and at this point in the cycle, those risks seem less justified.
Winners & Losers
Winner: The Steem community members who are against Tron founder Justin Sun's "hostile takeover" of the network. As I mentioned was possible in a prior week's note, opensource crypto networks can be forked if users disagree with the actions of others in the ecosystem. The Steem community members are doing just that, and if they can get enough buy in from the platform's broader community, they can take the value of the legacy network with them. Think about it like a revolution where people declare independence, set up a new country, elect new leaders, many citizens move there, and they issue a new currency that most citizens now only recognize as valid, leaving the old one worthless. That's the analogy for what being attempted here. Will it work? We will have to wait to see how it plays out.
Loser: MakerDAO token holders are the losers this week. The crypto market sell off and subsequent deleveraging caused serious structural cracks in the Maker collateralized DAI stablecoin system. The solution the Maker system implements is issuing MKR tokens to buy back DAI CDP's. This works like a bank needing to raise equity capital if large portions of its loan book defaulted, which means MKR holders get diluted at best.
Weekly Rant
The very inopportune timing BitMex's "regularly scheduled maintenance" during the peak of the market sell off makes me cringe. There are no doubt several crypto investors who were liquidated due to this timing that might have harsher words. On the other hand, it may have acted like the circuit breakers for crypto markets, like those we see effectively used in the traditional equities, giving markets time to cool off. In that sense, it might have prevented further crypto market wide contagion from spreading if it softened the liquidity crisis from squeezed margin liquidations.
Financing Activity
Bakkt – The New York based digital asset exchange completed a $300M Series B financing round led by investors that include Intercontinental Exchange, Microsoft's M12, PayU, Boston Consulting Group, Goldfinch Partners, CMT Digital, and Pantera Capital. Read more.
Argent – The London based cryptocurrency wallet developer raised a $12M Series A financing led by Paradigm. Read more.
Phemex – The Singapore based crypto derivatives exchange raised a $3.5M Series A financing led by NGC Ventures. Read here.
GrainChain – The Texas based agricultural commodity blockchain platform raised a $8.2M Series A financing led by Medici Ventures (Overstock.com). Read more.
Recent Research
Check out Fundstrat's recent crypto research if you missed it by clicking below or visiting the crypto section of the FS Insight website.