Fundstrat Crypto FX indices: A-D lines are in confirmed uptrends with mid-cap continuing to lead
Cryptocurrency breadth, as measured by the Fundstrat FS CryptoFX Advance-Decline lines continue to build positively across the large-cap (FX10), mid-cap (FX40) and small-cap (FX 250) indices. The performance of the FS CryptoFX40 Mid-cap index versus the FX10 Large-cap index is particularly noteworthy, having established a series of higher highs confirming a longer-term upside trend reversal. In addition, the FS CryptoFX 250 Small-cap index has yet to confirm a positive upside trend reversal with higher highs vs the FS CryptoFX 10 large-cap index.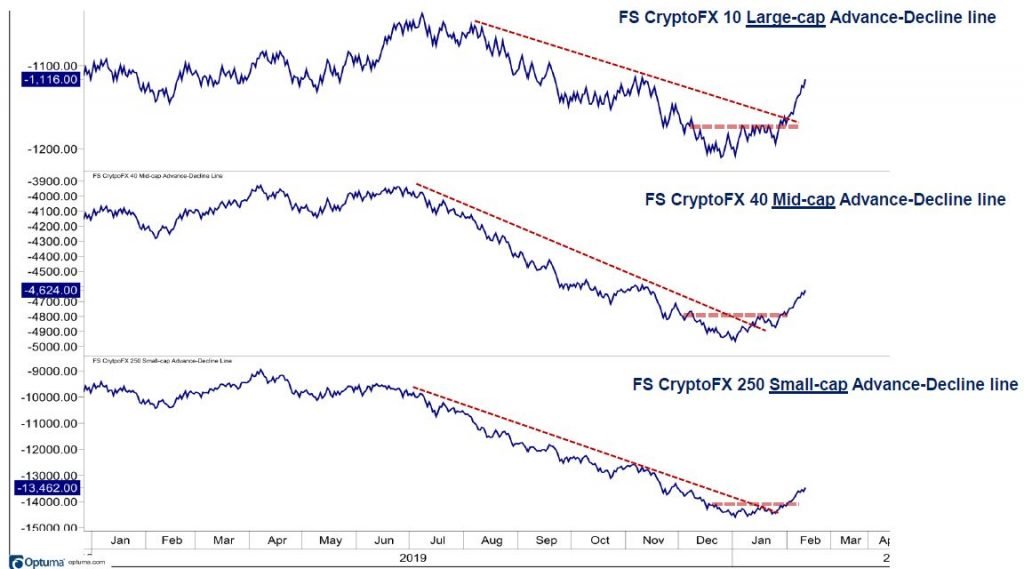 You are trying to access member-only content. You are either lacking the required privileges or you are not logged in to view this content.

You need to have an active FSI Digital Assets, or FSI Pro subcription in order to gain access to this article.
If you are
already a member
at FS Insight, please
Sign In
. If you
don't have a subscription to FS Insight yet
, please
consider reading more about Our Services
.