March 20 · Issue #619

Crypto markets jumped overnight gaining $33 billion in total market-cap, an increase of 21.8%
Another Japanese lawmaker has expressed the need for Japan to issue a central bank digital currency to maintain the strength of its currency in global markets
Numerous reports are appearing warning consumers to beware of fake websites and malware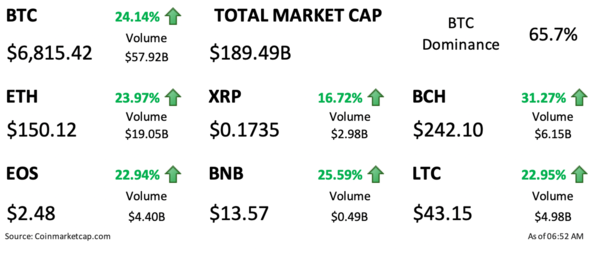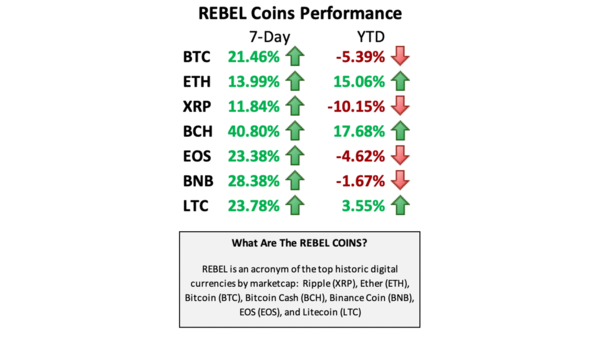 I heard a rumor earlier this week that a major bank (my bank) had limited cash withdrawals from ATMs. This turned out to be false, but banks are closing allowing employees to go into self-quarantine (Chase announced it was closing 20% of its branches and I expect more banks to follow) and there are already stories of people either withdrawing large amounts of cash (Bill Ackman) or banking systems being closed prohibiting cash withdrawals altogether (Venezuela).This obviously gives me fears of the Cyprus bank shut-down of 2013. I do not think this is going to occur – I think the same financial regulators I have questioned over their acceptance of digital currencies are actually doing a good job to help support the global financial system – but going shopping and seeing the empty shelves at my local market adds to my concern that further corona virus fears and market uncertainty could cause a mini run on the banks. The obvious risk avoidance strategy is self-custody of assets. We spoke about this in the office this week, volleying back and forth the benefits of self-custody with the cumbersome processes that still exist and the weaknesses of having a quasi-bearer instrument. The reality is that this technology has improved. We now have dashboards to help manage our assets and systems connecting your wallet to your computer no longer require a cord. More improvements are coming to digital wallet technology, but the question I am asking myself is do we actually want to live in a world where we self-custody all assets? It certainly gives me an added sense of security to know I am in full control of my assets – assuming I do not lose my wallet or forget my password – but our economy has evolved into a service oriented environment, trusted third parties do exist, and they offer great service and drive innovation with new features.For now I remain the master of my own domain and am in full control of all of my own digital currencies. I did withdraw some additional cash this week, but my fiat holdings are still held by a third party and as I sit here today, I think that although the idea of self-custody appears to be utopian, many of us will likely ask our same financial partners to custody our digital assets with our traditional market securities. Maybe using multi-sig will provide us with a false sense of security that we are still in control, but the reality is its no different than what we are doing today; we are still relying on that trusted third party to facilitate our transactions.
Weekend Reading
Bitcoin's 48-hour increase coincides with $180 million of new tether (USDT) being minted. Past studies have argued that bitcoin spikes, including the 2017 run, occurred around new large issuances of USDT. The theory was that the new tether was being minted without 1:1 USD reserves. In response tether published a transparency update with a proof of funds report by Delaware based law firm Freeh, Sporkin & Sullivan LLP. Unfortunately, as of last night, the latest update to this is from June 2018 so this argument will definitely be repeated in the coming days.Here is a copy of the University of Texas study (updated) that raised the initial argument and a rebuttal from the University of Queensland that argues it is unlikely tether manipulation caused the large bitcoin moves.
The Headlines

Japan Needs a Digital Yen to Maintain Global Position
www.cointelegraph.com
apanese Liberal Democratic Party member Kozo Yamamoto believes his countries must issue a central bank digital currency or face a loss to 'its sovereignty." ""We must protect it (the role of a unit of account) no matter what. If Japan doesn't issue a digital currency and people in the world use other digital currencies, the Japanese yen will be forgotten and lose its sovereignty," he declared.

Argentina Releases Blockchain for Gas Distribution
www.ledgerinsights.com
Argentinian gas regulator Enargas has launched a blockchain for the country's has distribution system. The RSK-based blockchain records all transactions for certification of new gas installations and reconnection of services eliminating the paper process monitoring the consumers on the network.

UK Sees Growing Crypto-Blackmail Cases
www.bitcoinist.com
More than 560 reports of bitcoin ransom attacks were reported in the UK in 2018 and 2019. The hackers used the same tactics in almost all cases–blackmail and fear intended to not only cause economic damage but also psychological damage by using threats, intimidation, and other high-pressure tactics to achieve their goal.

1.2 million Italians Accessing Bitcoin with Bank
www.en.cryptonomist.ch
Private Italian bank Banca Sella has brought the ability to trade bitcoin to its clients and already has over 1.2 million users. Interestingly, the bank has created a basic plan targeted at younger, more digitally savvy, investors starting at the age of 12.
Scammers Are Stealing COVID-19 Aid With Fake Sites
www.twitter.com
National media have followed on the initial reports by Sophos security research Chester Wisniewski to report that criminals are taking advantage of good samaritans looking to support corona virus aid by releasing fake donation links.

Storj Cloud Storage Platform Launched
www.storj.io
Storj, a decentralized cloud storage platform, has launched. The open-source network, which currently has 19 petabytes of available capacity, is hosted on thousands of nodes run by individuals and partners based all around the world.

Vitalik Provides Future Roadmap
www.twitter.com
Ethereum founder Vitalik Buterin tweeted a roadmap of what eth2 may look like over the next 5 – 10 years. Buterin explained that research for ethereum has evolved from "blue sky" to concrete R&D allowing for complexity and scalability to be addressed.
Market Data

Bitcoin Sentiment Understandably Weak
www.alternative.me
The Crypto Fear and Greed Index, a monitor of investor confidence, is being driven by uneconomic uncertainty and has been at its lowest levels since last August posting an "Extreme Fear" rating this morning. Fortunately, the market pick up has had a positive impact on the index and shown a positive swing in its rating over the past 24-hours.

Bitcoin Still Outperforming S&P 500
www.twitter.com
Grayscale Investments' Brooke Stoddard twitted an interesting metric to keep crypto investors level headed in this period of overall market weakness. "In 2019, bitcoin (+92%) outperformed the S&P 500 (+32%). In 2020, bitcoin (-14%) is outperforming the S&P 500 (-25%)."

Sell-Off Driven by Newbies
www.coinmetrics.substack.com
A study by Coin Metrics suggests that the recent crypto sell-off was driven by short-term holders. By looking at the "revived supply" the number of "hodl'd" coins brought back into circulation, the crypto data firm was able to show that the vast majority of bitcoin sold on March 11th and 12th was held for 30, 90, and 180 days.
Exchange, Custody and Product News

Tether Launching on Bitcoin Cash Network
www.news.bitcoin.com
Tether has announced it will begin to use the Simple Ledger Protocol built upon the Bitcoin Cash (BCH) network for issuing its tokens. This will add BCH to other networks supporting the leading stablecoin including Ethereum, Algorand and Tron.

Kraken Warns of Malware and Fake Sites
www.blog.kraken.com
Kraken has released a new posting on malware warning investors to be aware of fake apps. The US based exchange stresses its users should to verify the authenticity of any site before providing log-in credentials and recommends using the official iOS and Android Kraken apps to access your account.
BitDigest is a weekday news update on digital currencies and blockchain technology for friends and partners of Parsons & Whittemore, a single family office based in Rye Brook, New York. Receipt of BitDigest is by approval of the Author. The commentary, analysis, opinions and recommendations in this newsletter represent the personal and subjective views of the Author, and are subject to change at any time without notice. The information provided in this newsletter is obtained from sources which the Author believes to be reliable. However, the Author has not independently verified or otherwise investigated all such information. Neither the Author nor any of the Author's affiliates make any guarantee or other promise as to any results that may be obtained from reading this newsletter. While past performance may be analyzed in this newsletter, past performance should not be considered indicative of future performance. No reader should make any investment decision without first consulting his or her own financial advisor and conducting his or her own research and due diligence. The Author is not making a solicitation or offer to buy or sell any securities of any kind.