INTRADAY ALERT: 3 key takeaways: strengthens case for "dovish" May +25bp as core services ex-housing (Fed focus) now +2.8% annualized, right on target
THIS MESSAGE IS SENT SOLELY TO MEMBERS OF FS INSIGHT
The March Core PCE deflator, the Fed's preferred measure of inflation, came in better than expected at +0.28% MoM, below consensus of +0.3% and +4.6% YoY. The internals were better as well. Here are 3 takeaways:
First, Core PCE MoM at +0.28% is the best figure since November 2022 and has been visibly decelerating since Jan high watermark of +0.56%. Recall, the consternation by markets and Fed over the "hot" Jan CPI and PCE and the visible deceleration since shows that Jan was the aberration. And inflation has been cooling steadily since Sept 2022. This is also when equity markets bottomed.
Second, The Fed has recently focused on "Core Services ex-housing" and this figure showed similar progress coming in at +0.24% and down from +0.35% in Feb and +0.55% in Jan. The latest figure is an annualized rate of +2.8%, which is right around Fed target of 2%. Thus, one could argue the PCE inflation as Fed sees it, is essentially at target.
Third, the biggest driver of PCE inflation remains housing coming in at +8.3% YoY and accelerating from 8.24% last month. But is this what anyone still believes? That housing is inflation at 8% YoY? Case-Shiller this week showed it was 0% and Redfin shows rent was down second consecutive month on YoY change.
Outside of housing, hospital services is second largest contributor to PCE inflation at +6bp (+0.7% MoM and 3.28% YoY). FYI, Fed hiking rates will not really impact hospital/healthcare inflation.
Bottom line: The internals of this March PCE deflator report are encouraging. This shows more progress on inflation than the headline suggests. As for Fed:
May hike probability (next week) is > 90% for +25bp, but we see this as a dovish hike
Odds of a June hike remain low at +23%, flat for the week.
We continue to see this as supportive of our thesis that stocks made their lows in October and will gradually strengthen into the YE 2023.
While April gains were only +1.2%, the tone of the past few days was better than expected. And thus, we expect to see follow through into early May. And if this is a dovish hike in May (FOMC meets 5/2-5/3), stocks could rally strongly. We will have more thoughts Monday/early next week.

Odds of May hike are 88% and for June 23%. But as we stated recently, we believe the May hike will be a dovish hike, meaning the Fed will likely pause. And today's PCE report supports that probability.
and June hike odds are still low at 23%

Core PCE MoM came in at the lowest levels since Nov 2022, and, as we noted above, shows that the Jan "hot" CPI was a fluke. Mostly likely distorted by poor seasonal adjustments post-pandemic.
moreover, it shows markets and Fed were swayed by Jan "hot CPI" and over-reacted
remember how markets fell sharply in Feb as a result?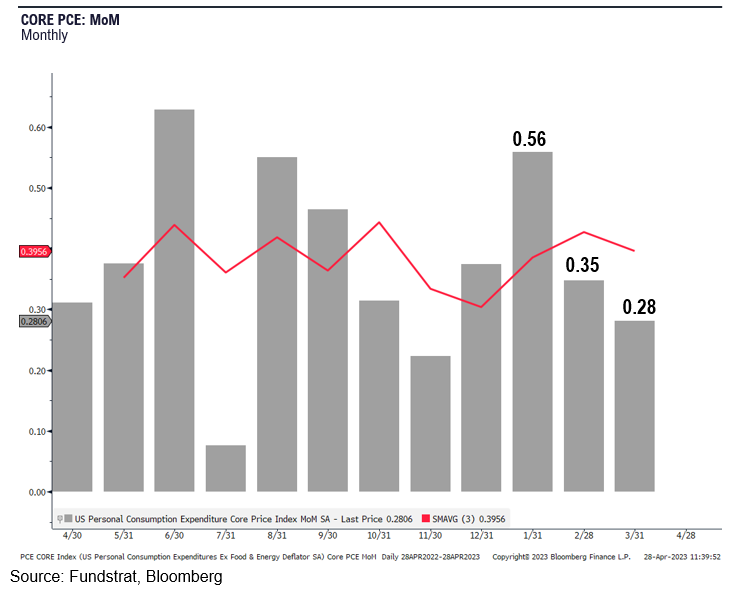 The more important metric is core services ex-housing, and this shows a similar trend. The Fed has referred to this metric as their framework for tackling sticky inflation.
annualizing the current shows this figure at 2.8%, the best reading since July 2022
and also right on target with ~2% inflation
moreover, this trend is similar to core and shows a sharp deceleration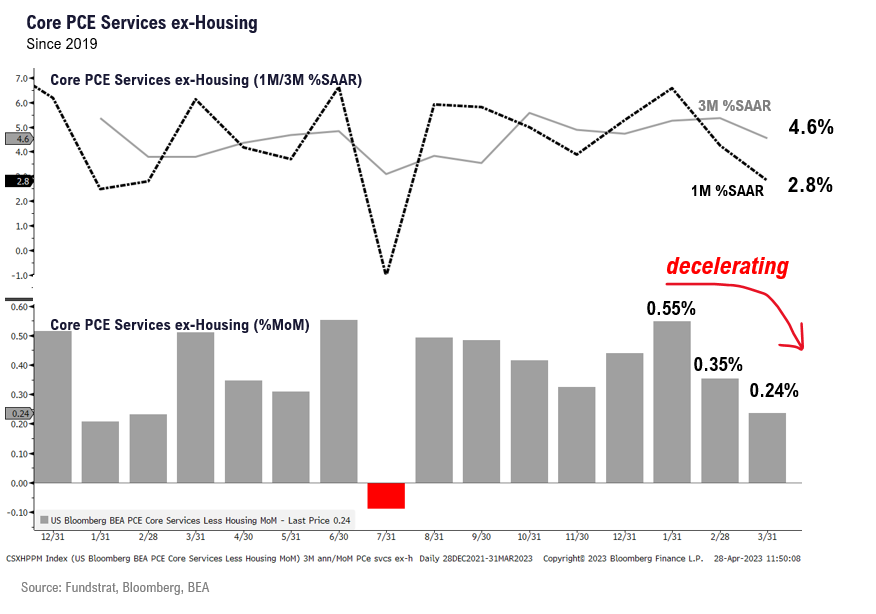 Looking at details of CPI, housing and hospitals are the two largest contributors.
And we think these are less important to Fed policy
PCE housing inflation, we know, is lagging and will soon line up with market-based showing deflation
Hospital and medical products/outpatient, ranked #2, #6 and #7 are not really impacted by monetary policy
So does it make sense for Fed to be hawkish post this report? Not in our view.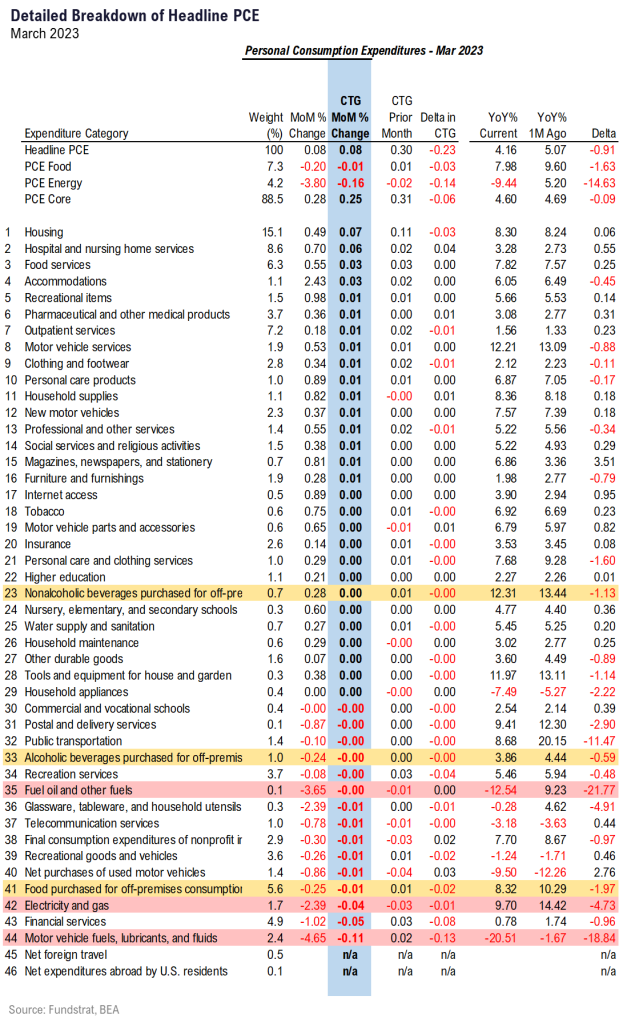 We publish on a 3-day a week schedule:
Monday
SKIP TUESDAY
Wednesday
SKIP THURSDAY
Friday
 _____________________________
37 Granny Shot Ideas: We performed our quarterly rebalance on 4/26. Full stock list here –> Click here
______________________________