In the fourth quarter of 2018, U.S. equity markets experienced a bear market.  But in January, 2019, FSInsight's technical strategist Robert Sluymer told clients that "for anyone with an investment horizon beyond a few weeks…a major (S&P) cycle low has likely been established….Expect pullbacks to be shallow and short-lived. We continue to judge the secular bull market as intact and view the recent downdraft as a cycle correction back to the secular uptrend."
Don't miss Rob's outlook call for 2020, which is happening in a few days on Wednesday, January 15.
The 2020 call will be for FSI Members Only.  If you are not yet a Member, here is your perfect opportunity to give our services a try!  Get your free 1 month trial by clicking here and you can join the call to get Rob's view for 2020!!
As a Member, we will provide you a link for registration to the call.  In case you can't make the call live, we will also provide a link of the replay to all Members.
Rob Sluymer's 2020 Technical Strategy Outlook: 
Please join Rob Sluymer, Head of Technical Strategy at FS Insight, on Wednesday, January 15 at 11:00 am ET for a conference call with Q&A as he discusses his Outlook and key strategies for 2020.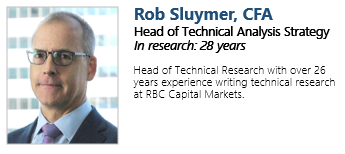 Long-term outlook
• Why the secular trend for equities has potential to remain bullish into the early 2030s.
• Why the 4-year market cycle kept us bullish through 2019, when others turned negative, and its implications through 2020 into 2021.
• Why we think in terms of cycle peak targets rather than YE targets – Prospects for S&P 3850-4700 in 2021-2022.
• Longer-term trend shifts underway for interest rates, currencies and commodities and the implications for equities.
2020 tactical risks and opportunities 
• Why a Q1 tactical peak is likely as…
• Intermediate-term technical indicators are likely to peak mid-late Q1 coinciding with key 2020 election and Fed balance sheet events. 
2020 roadmaps and recommendations for:
• Secular growth – Leadership intact 
• Cyclical growth – Cycle roadmap bullish through 2020 but expect a choppy path. 
• Defensive/safety groups – Tactical opportunities heading into Q2. 
• Global equity market (EAFE vs EM vs LatAm) and equity recommendations. 
Tune in for a more detailed review of our 2020 technical outlook on Wednesday, January 15th at 11am ET
Date: Wednesday, January 15, 2020
Time: 11:00 am Eastern Time
Duration: 45-60 minutes (including live Q&A)
Registration is required to receive dial-in/login details.
You will receive a copy of our Outlook before the call.  The call will be accessible via computer, phone or both. If you login, you can view the Outlook during the call.  If you call in only, we recommend having a copy on hand if possible.
Should you have any questions, please do not hesitate to contact us at (212) 293-7140 or email inquiry@fsinsight.com.